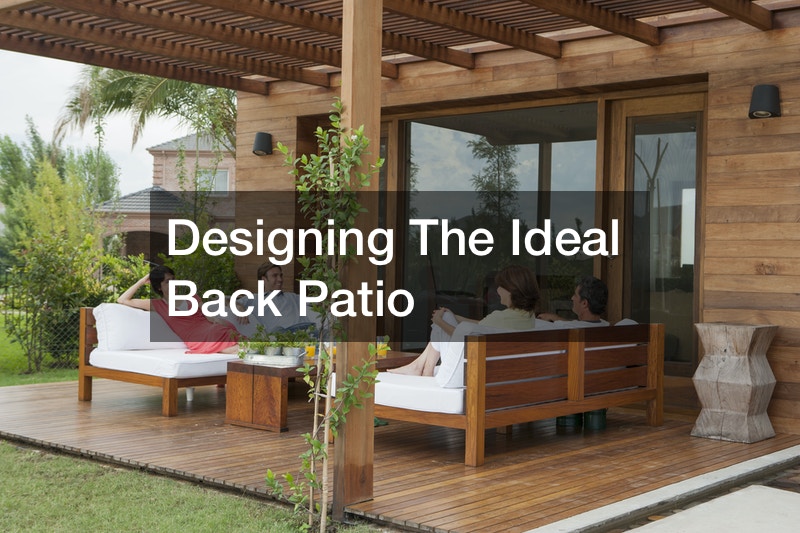 Having a customized back patio can be a huge benefit for homeowners. It can allow you to make the most of your space while also enabling you to have an enjoyable way to spend more time outdoors by yourself or with friends and family. However, when it comes to creating your ideal back patio, things can be easier said than done. There is a lot that needs to be considered, and many homeowners aren't sure where to begin.
To help make creating your own perfect back patio easier, here is what you need to know.
Creating Your Perfect Patio
When it comes to making the most of your outdoor space and creating the perfect patio for you and your family, there are some notable considerations to think about. Some of these are things that many homeowners might completely overlook in their rush to create a perfect space. However, without taking everything into consideration, you could risk ending up with a patio you're not completely satisfied with.
1. Paving
Paving your patio space should be a major priority and it isn't something that you'll want to skimp on. Having the right paving can help bring your space together and make it easier to navigate. However, not all paving materials are created equal and it'll be important that you work with your paving company to ensure that you choose the best material for your home. A few of the most common materials for paving include:
Slate: A durable and attractive material that can give a sleek look to any back patio. However, it can be susceptible to extreme moisture damage.
Granite: A highly durable and long-lasting material that is available in many different colors. However, it can be difficult to work with and expensive to install.
Limestone: An easy to shape material that is often very evenly colored. However, it can have limited availability and be susceptible to acid rain damage.
Concrete: A hardy material that can be installed easily and stained in many different colors. However, it can be prone to cracking over time, and poured concrete can be difficult to change once laid.
Porcelain: A dirt-repelling material that is long-lasting and has a stone-like appearance. However, it can be more expensive than other options to install.
Brick: A classic material that can be found in many different colors and laid in many different ways. However, this material can also be expensive depending on how large your patio is and cleaning can be difficult if they aren't laid close enough together.
All of these options have their own pros and cons and it's important that you work with your pavers to determine what material is best for your patio, depending on the style you want and the environment it will be exposed to.
Patio Doors
The doors you use to get out onto your patio should also be considered. Many people prefer to install a sliding glass door for easy patio access and for the ability to look out on their yard from within. Working with a commercial glass service can help give you ideas of how you can tailor your sliding doors to best show off your patio. For instance, if you want easy access without having curtains or drapes in the way, commercial glass door shades may be something to consider. Vertical blinds are one of the most popular options and they can be easily moved to the side or opened to look out.
Window tinting can also be something to consider and some window treatments allow you to seamlessly look out while blocking others from looking in.
Installing a screen door alongside your patio door should also be considered if you plan on having it open. Screens can help keep bugs from flying inside, while still allowing you to bring some fresh air in. If you don't want a screen door, a magnetic bug screen that easily opens and closes when you walk through may be something to consider instead.
Electric
Having eclectic lights and plug-ins along your patio can be exceptionally helpful. Outdoor lighting can help ensure that you're able to enjoy your patio even when the sun goes down, without worrying about being stuck out in the dark. A commercial electrical contractor can help you design the best layout for your lighting and outlets. Having additional outlets installed can give you the ability to plug in things like fairy lights, fans, music players, and even your laptop if you feel like taking your work outside for the day.
Additionally, since air conditioning installation isn't an option in outdoor spaces, functioning electricity can also come in handy if you want to install outdoor fans to help keep the patio cool.
Adding Shade
To make your patio more comfortable both in rain and shine, you'll want to add some shade. This can be done in a couple of ways. You can have your roof extended to cover your patio. Commercial roofers will be able to assess how this can be best achieved in your home. You could even install an artificial stone column for support that can be both functional and attractive.
If extending your roof isn't something you want, installing a retractable awning can also be a solution and it can enable you to enjoy the sun when you want, while providing shade when you need it. Awnings and extended roofs can also help protect your patio furniture during rainstorms, keeping it cleaner and drier.
Furnishing Your Patio
Furnishing your patio is one of the most important things to consider once you have it constructed the way you like. However, before you head to the furniture store with your bank card out, there are some things to keep in mind.
Focus on Comfort
While style and design are important, if it's not comfortable, you're not going to want to spend time on it. When furnishing your patio, try to create various layers of comfort. Invest in outdoor rugs, plush cushions, and comfortable pillows. Always test out your seating for comfort before purchasing it to prevent buyer's remorse.
Consider Curtains
If you live in an area with neighbors close by, privacy can be difficult to come by. If you don't want to invest in high privacy fencing, curtains can be a great way to effortlessly and softness and privacy. Flowing light curtains can also help keep the sun at bay as it rises and sets, keeping your patio cooler and more comfortable all around.
Additional Seating
Chairs, benches, and loungers are all staples of patio furniture; however, floor pillows can be a great way to add additional comfortable seating. Floor pillows can also add an extra level of plushness and comfort. They can also be easily stored away and pulled out when you need them most.
Choose Furniture That Can Multi-Task
Choosing furniture that can pull double duty can be essential for maximizing the potential of small spaces. Benches that double as storage, tables that double as coolers, and tables that can be turned into extra seating are a must-have if you're looking forward to hosting a lot of guests.
Add Color and Greenery
Adding greenery and potted flowers can be a great way to bring life and texture to your patio. It's a great way to add more life to your outdoor space, without needing to plant anything in your yard. (However, you should totally consider doing that too!)
Designing a Dining Space
If your planning on dining outdoors, consider how you want your patio to accommodate you. If you want a smaller, more intimate dining nook, a smaller table can easily be all that you need. However, if you want to host a lot of guests, investing in a larger table may be in order. Consider what you want and if you also need a food preparation space and grill to fit onto the patio as well. Once you know what your goal is, you can plan from there.
Landscaping
Landscaping around your patio is another thing that you should consider to help make the most of your outdoor space. While potted patio plants are always a plus, if you have a larger yard there's no reason you can't expand your creativity outwards. Here are some ideas and tips to keep in mind.
Trees
Trees can be a great source of shade; however, some may need to be trimmed to avoid fall hazards. If your backyard tree has heavy overhanging branches or is dying, a professional tree trimmer should be called to correct the problem. You don't want to design your ideal patio only to have it destroyed by a falling tree branch.
Similarly, you'll want to make sure that the trees on your property don't have invasive roots. This also extends to any trees you may plant. Invasive roots can wreak havoc on your sewer system, resulting in expensive sewer line repairs that could tear up your yard.
Add Privacy With Hedges
If you don't have a fence and you're not keen on putting up outdoor curtains, privacy hedges are a great alternative. Not only can they help block out spying neighbors, but they can improve the appearance of your yard.
Soften Hard Edges with Perennials
Patios can often have hard edges that can take away from the natural beauty of the landscape. Adding perennials can be a great way to help break up the hardlines and give you additional beauty along the sides of your patio.
Add Relaxing Water Features
Decorative water features are both attractive and relaxing. You can even add waterplants to them to make them stand out even more. Some larger water features can even be used to house koi fish if you live in a climate that can sustain them.
Focus on What You Want Most
When it comes to designing your ideal back patio, your dream space will differ from your neighbors. Thankfully, there are almost no limits to how creative you can get when it comes to designing your perfect space.
For the general layout, work with your contractor to determine the materials you want to use, the size of your patio, and the unique features that you want to incorporate. For instance, if you want a space for grilling or a built-in fire pit, you'll want to add those into the initial layout.
For furnishings, think about how you can best use the space and what you will be primarily using it for. If you're planning on hosting a lot of people, but only once every couple of months, you may want furnishings that can be easily stored and pulled out when you need them. If you're planning on using your patio only for relaxing with a small number of family, you can plan around creating a more intimate space.
The landscaping can be considered alongside all of this provided you have the yard space to accommodate it. By adding landscaping around your patio, you can further increase the beauty and comfort of your space and give you more reasons to spend time outside.
Take Your Time
Rome wasn't built in a day and neither is your ideal back patio. Take your time thinking about the things you really want to get out of your space and work closely with your contractors to help make your dream a reality. Consider sitting down and making a list of the things you want to use your patio for, as well as some 'must haves'. Use this as a starting point that you can build off of once you start putting your patio together. By doing that and by keeping all of these tips in mind, you can start working towards creating a patio that you can't wait to show off.