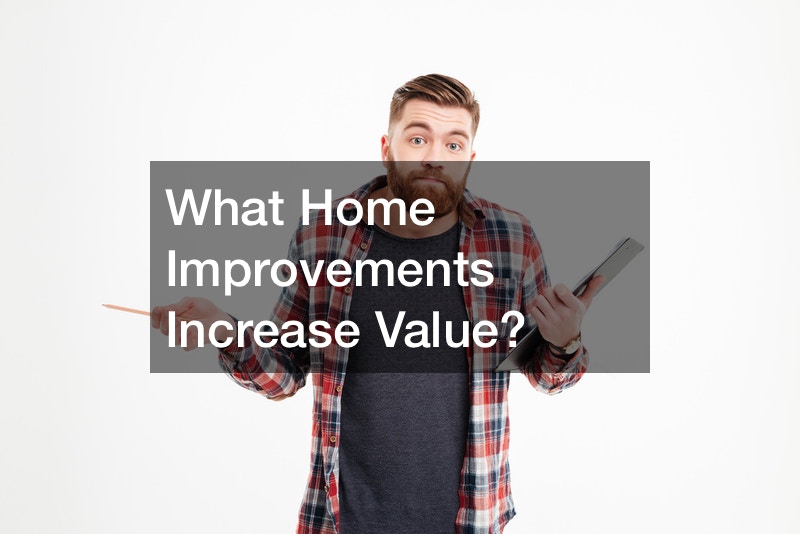 Are you moving and looking to sell your home? Before you do, you might want to check out what home improvements increase value. Here are some that you may want to consider.
Remodel the Kitchen
One of the best ways to increase the value of your property is to ensure that the kitchen is on point. Many home buyers are looking for modern kitchens with high-quality appliances and finishes. This is probably why a kitchen remodeling project is one of the projects with the highest return on investment. According to Remodeling Magazine, a kitchen remodeling project can have an investment return of as high as 81.6%. However, you should be careful not to go overboard. You can't have a kitchen remodel with a budget of $80,000 on a $125,000 home. When you are remodeling a kitchen, you should start small at first. For instance, you can start with simple things like replacing the kitchen faucet. You can also add new hardware to your cabinets and install modern light fixtures. These small changes will significantly give your kitchen a new look.
The idea is to get as much value as possible without spending too much money. Before you replace anything, you should check to see if it can't be fixed first. Rather than getting new cabinets, you can assess their condition to see if you can't give them a new and improved look with a fresh coat of paint. You can also hire a refacing company to install new hardware and doors and refinish the cabinet boxes. These seemingly minor updates significantly improve your kitchen, increasing your property value significantly. However, if your kitchen cabinets show excessive wear and tear, you may need to skip the refinishing and go for replacements.
Boost Curb Appeal
It's essential to ensure that people don't find easy things to criticize when they come to view your house. This is why you need to invest a lot in first impressions. Fortunately, there is a lot you can do to enhance your home's curb appeal. Some things might not even require you to part with money. For instance, you can simply scrub the siding and power wash the asphalt paving. Not everything needs to be expensive to be effective. Here are some things you can do to enhance your home's curb appeal.
Spruce Up or Replace the Front Door
The front door is one of the first things you see when you get to any home. It's almost impossible not to notice it. Depending on the condition of your door, you can either refinish it or replace it. If the door is still structurally sound, you can just get a professional painter to come and freshen it up. Once that's done, you can install new handles, and the door will be good as new. However, getting a new one would be a great idea if you feel like the door needs to be replaced. After all, you need your front door for security as well. The most secure doors are steel doors. They also have a very high return on investment. According to experts, replacing your front door with a steel door can yield a return on investment of anywhere between 65% to 91% when you sell your home. Buyers love the low maintenance, energy efficiency, and cold-blocking properties of metal.
Replace the Garage Door
Is your garage door looking a little dingy on the outside? Or may it is making strange noises? There are several reasons why it might be a good idea to replace your garage door before you dive into additions like a sunroom. It might still be in good condition, but if it looks a bit outdated compared to your neighbor's door, you may still need to replace it. The garage door has a lot of surface area, which makes it very noticeable. This means if it doesn't look good, it will spoil how your home looks. The good thing about garage door replacement is that it yields a significantly high return on investment. According to HomeLight, top real estate agents say a new garage door tends to give homeowners a return on investment of up to 133%.
Update the House Numbers and Mailbox
As mentioned before, you don't really need to part with tons of money to improve the look of your home and increase its value. Even small touches like your mailbox can grab the attention of buyers. Imagine you have the most beautiful home, and the mailbox is dented-up. Whoever comes to your home will just imagine that if the mailbox looks that bad, then the inside must be even worse. You can get a standard mailbox for around $25. You should also ensure that your house number looks good. The good thing about these is they are very cheap. You can get black 4-inch nail-on numbers made using aluminum for as low as about $2.50 per digit.
Refresh or Touch Up the Exterior Paint
Refreshing the paint on your home is a great way to make it look new again. Fortunately, if the paint is not too old, you can get away with not replacing it altogether. There are other cheaper options to explore if you are on a budget. For instance, you can just touch up any chipped or flaking paint. You should also consider painting the trim. However, if the paint is too old and you feel like touch-ups wouldn't fix the damage, you can go ahead and paint the entire exterior. Before doing that, you should first try to find out what buyers in your area prefer. According to a survey by NAHB, buyers usually prefer white or brown front doors. This can guide you when buying paint. If you are undecided, it would be a good idea to go with neutral colors.
Painting the exterior of your home can cost an average of $3,048. However, the cost also depends on where you stay and the current condition of your home. A fresh coat of paint can help you add about $7,500 in resale value. If your home needs paint, it would be a good idea to go ahead with this project. It's also a good idea to pressure wash the whole exterior and the roof to remove mold and dirt. This will also give you a chance to get a clearer roof inspection to see if there are any roofing problems before selling. You should also pressure wash the sidewalks, patio, and deck if it's there to make sure nothing gets in the way of your home looking good.
Add a Parking Spot
Do you stay in the city, or somewhere where street parking is a problem. A good way to make your house more appealing would be to add a concrete parking pad. That will probably cost you around $1,200. That's a massive upgrade that doesn't cost a lot of money. It also brings a lot of value to your home.
Like many things on this list, you should never go overboard. Turning your home backyard into a paradise is a great idea, but if it doesn't add to your asking price, it shouldn't be on the list of what home improvements increase value.
Improved Energy Efficiency
Energy efficiency is the new buzzword in the housing market. If you are looking into what home improvements increase value, this is one area to focus on. No one wants to buy a home that will be very expensive to run. This is why you must ensure that your home is as energy efficient as possible. Home inspectors are now including energy efficiency checks on their list of inspections. If your home has drafty doors or it lacks proper insulation, the inspector will note it down. This leads to high energy consumption, and the house will be costly. As you might imagine, it can affect your selling price.
To prevent this, you need to start updating things like the insulation. For instance, you can add extra insulation to the attic. Before you just dive into more costly items like solar panels and solar energy, you should first seal the cracks around windows, doors, light switches, and electrical sockets. This will go a long way in preventing heat loss. Another thing you can do to improve your home's energy efficiency is to upgrade windows. Single pane windows that are drafty and don't have window shutters can turn buyers away. Look for Energy Star-rated windows and replace the existing ones. These will help keep the heating and cooling costs down. Having Energy Star-rated windows and appliances can also qualify you for a green energy tax credit.
Convert or Build a Home Office
When it comes to what home improvements increase value, this one tops them all. The number of people who work from home has been rising steadily. According to Workplace Analytics, there has been a 160% increase in the number of individuals who work from home. The percentage of people who work from home has increased by 159%. This is why a home office is now a top priority for most people looking to purchase a new home. Top real estate agents think buyers care more about whether a home has a home office than if it's move-in ready or is of minimum square footage. The good thing is that you don't need to do a home addition to have a home office. You can rededicate an existing space and turn it into a home office.
According to HomeLight, adding a home office can increase your resale value by over $10,000. That number might become higher as more Americans settle into the remote work routine. You can convert any room into a home office as long as it has enough space. This includes the basement, walk-in closet, or an extra bedroom. If you have the budget for it, you can build an accessory dwelling unit in your backyard and turn it into a home office.
Finish Your Basement
Basement finishing is a perfect answer to the question of what home improvements increase value. If your basement is unfinished, you may have more space for storing junk items, but you are missing out on extra livable space that future buyers can appreciate. There are lots of ways to use a finished basement. You can turn it into a bedroom, game room, home office, or second living room. How you use a finished basement is entirely up to you. According to HomeAdvisor, finishing a basement can give you an ROI of up to 75%. Buyers love this because this is more heated square footage for whatever they want to do. This is why a basement refinishing basically bumps up your home into a new price bracket.
Upgrades That Enhance Outdoor Living
Still curious about what home improvements increase value? A lot of people are now embracing spending more time outdoors. This has had an impact on outdoor housing preferences. At the movement, outdoor living spaces rank third in homebuyers' priorities. Fortunately, there is really no limit to the outdoor upgrades you can make. For instance, you can add a deck or patio to your home. These are common staples when it comes to backyard living areas. You can use a patio as a place to have a beverage, dine or work outdoors. The good thing with such additions is that they will give you a lot of ROI. It has been shown that a deck can add over $7,000 in resale value. Apart from adding a deck, you may also want to hire a lawn maintenance company to ensure that your lawn looks greener and healthier.
These are some upgrades you can make to your home to increase its resale value. When picking projects to increase property value, you may want to prioritize those that add the most value to your property first.