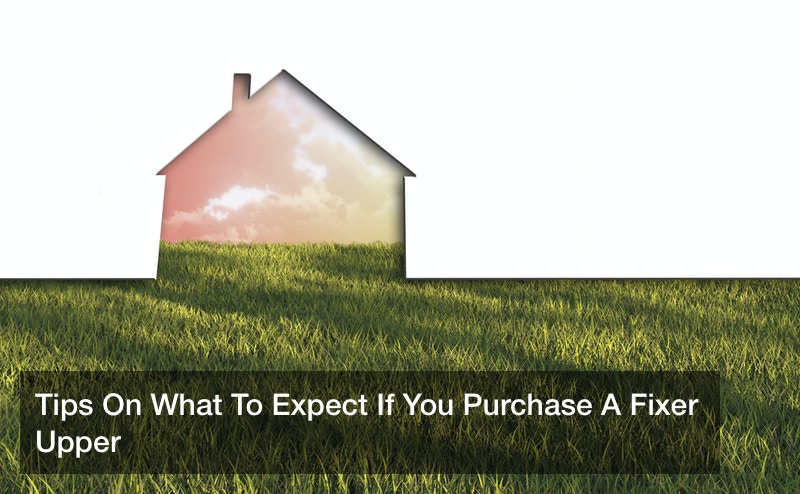 Congratulations, you just brought a new house that you can call your very own.
However, the house you just brought isn't "brand new." The plumbing could use some work. The bathroom and kitchen look a little bit dated, and you could use some new windows to replace the old ones. This, our homebuying friends, is what we call a "fixer-upper," which is a house that is purchased with the intent of fixing it up.
If you've ever watched one of the numerous house flipping shows on television, this is exactly what those real estate flippers do. However, outside of the glitz of reality television, there are plenty of people who buy fixer-uppers all the time, not intending to flip the home to make a profit but to create their dream home.
So if you're in the position to buy a fixer-upper, here's what to expect and what you should do to make this falling house a sparkling new home.
You Still Need A Real Estate Agent
There is a common misconception out there that you don't need a real estate agent to purchase a fixer-upper, but you do, and getting the right one matters.
There are real estate agents out there who specialize in selling fixer-uppers. While there are some that you can purchase in cash, you will still need a mortgage loan to purchase the home as some do indeed come with monthly mortgages. Hey, not everyone can buy a $270,000 home upfront, so make sure that you obtain a loan that will work in your favor.
Make a Decision On What You Can Repair On Your Home
One of the reasons why homeowners are drawn to fixer-uppers is the fact that they can make that house their do-it-yourself pet project.
Fixer-uppers are great for homeowners that want to make the repairs to the home themselves as it brings more of their personality into a once tired property. However, you can't do everything in your home, and you will need to determine which projects you can do on your own, and which ones should require a contractor to come in and do the work.
As we've already established, it's not wise to do plumbing, electrical, and roof work on your own. Those three things you should leave to the professionals as it is too risky and too dangerous for you to handle on your own. However, there are some things that you can do on your own, but it takes time and the desire to achieve that. Keep in mind, remodeling a home is not for the faint of heart, so you should decide which tasks you can do on your own before making the plunge.
You'll Need Financing For Home Projects
Sure, there are some things that you can remodel on your own, but as we explained earlier, remodeling a house is not easy. Remember, you're buying a fixer-upper, which generally means that there are going to be a lot of things wrong with the home that you're planning to purchase. With this in mind, you will need to consider financing your home renovations for the many home projects that will be required.
One example is the roof. If you buy a home that has roof damage, this is a job you should not attempt to do on your own. You will need to hire a residential roof repair contractor to come in and do that work. Also, consider the home's plumbing, in which you should consider financing plumbing equipment if you're going to tackle the home's plumbing system yourself. Also, consider fire damage in the home. Normally, this would send potential homebuyers running for the hills, but if you're still invested, some contractors can do fire damage restoration.
Before you make the calls, however, it would be wise to assess the home to see just how much you want to or are willing to invest in this renovation project. Even on home flipping shows, you will see the owners take a tour of the home to see what's needed to be done and make a close estimate as to how much they're willing to spend on the renovation, and even then, it is tough to keep it on budget.
That is all-too-common with fixer-uppers, which is why you need to do a thorough assessment of the home to determine how much you're willing to spend and if it's even worth it.
Don't Customize Too Much
When you're fixing up your new house, you want to be sure that you customize it to meet your needs. For instance, including an island or setting up open shelving to display your cast iron cookware is a great way to customize your kitchen. However, you want to be sure not to over-customize your home too much. When the time comes for you to eventually sell your house some years later, you don't want to turn potential buyers away from your property because you've decided to include new features that aren't exactly functional or visually appealing to other buyers.
Make Your Home Into Your Home
One place where you can make a space your own is the bathroom. You can add all sorts of interesting and great customizable pieces to your bathroom, one of which is installing glass showers that will give your bathroom a little more flair. If you're lucky, you may purchase a house that comes with a shed, and there are all sorts of things that you can do with a shed. You can customize the shed to be your personal space, turn it into a guest room, something that will make the shed stand out on its own.
As many workers are now working from home, as part of the renovation process, you will want to make sure that your house has enough room to incorporate a home office. Having the space for a home office will let you work from home in a comfortable setting, and the best part is that you can customize your little space any way you want, without getting the bosses' approval.
Your Life Is Going To Be Temporarily Upended
As we mentioned earlier when you decided to purchase a fixer-upper, you are signing on to the fact that the home you just brought will need some upgrades to it. That means constant construction and renovation, and that can be a bit of a burden on your lifestyle, which is why you should make some alterations so that you can cope with the constant sounds of drills and other tools needed to fix your fixer-upper.
Make Sure You're 'Built For This/
If you ever watched Season 5 of Hell's Kitchen, you probably remember Sterling, the chef who told world-renowned Chef Gordon Ramsey that he was "built for this" when faced with elimination.
That is the same mind frame you have to be in if you're going to embark on purchasing a fixer-upper. The meaning behind "built for this" is that you are in the right mindset to embark on a remake of your house, which could take time depending on how much needs to be renovated. That time can eventually take its toll, as the constant renovations will upend your life for a temporary moment.
Not only that, but you'll have to make sure that your fixer-upper stays on budget, which can add even more stress to your once tranquil lifestyle. With all of this stress, worry, and construction going on make sure that you're taking the time to re-focus and put yourself in a calming mindset. Remember that, in the end, the home that you purchased will look like new, either ready for you and your family to occupy or for you to flip and make a profit.
There is a purpose as to why you brought your fixer-upper in the first place, and you mustn't lose sight of the purpose, as that will keep you in a calming, positive mindset while the renovation is ongoing.
Some Fixer Uppers Just Aren't Worth Fixing
While this blog is dedicated to what to expect when you're buying a fixer-upper, there is one important question that you must answer before you put in your offer: Is it even worth it?
The majority of the time, yes, it will be worth it. If you have the fund needed to do massive renovations on the house, then, by all means, go for it. However, some homes simply aren't worth your money nor your time. Yes, fixer-uppers always come with some problems, that's why they're called fixer-uppers, by the way. However, some houses may be in too bad of shape and beyond repair for you to seriously consider purchasing.
Take roofs for example. While most roof damage can be repaired, they can cost quite a bit, and if you run into a fixer-upper that badly needs residential roof repair, you have to consider how much that repair will cost and if you can factor that into your budget. If you're walking into a fixer-upper with a tight budget, it may not be worth purchasing a home with significant roof damage.
You should also consider fire damage. Some fixer-uppers will have some sort of fire damage to the property. While this can be repaired as well, just like roofing repairs, fire damage restoration could also outstrip the money that you were factoring into your budget, meaning that the fixer-upper you were considering maybe out-of-reach and not worth your money nor your time.
Most homes can be repaired, but some will be in such bad shape, that you should seriously consider whether or not you want to go through with a purchase of that house. Remember. some fixer-uppers aren't worth fixing, and you should consider if the home you're considering buying is worth saving.
In conclusion, fixer-uppers come with risks. Most of the time, these houses have suffered damaged, have outdated plumbing systems, and outdated areas that needed to be spruced up.
For some homebuyers, that will be a turnoff, but the may draw for fixer-uppers is that the home presents a chance for you to make that house into what you want it to be without building the home from scratch. Most of the issues in fixer-uppers can be fixed either by a contractor or yourself and for homeowners who have that do-it-yourself spirit, fixer-uppers present a great opportunity for you to showcase your renovation skills.
As with everything you purchase, you need to know what to expect when jumping into a fixer-upper. For starters, make sure that you have a budget planned out for renovations to the home and stick with it. Separate what you can fix and repair on your own, and which ones will require a contractor. If you're in the market for a house to flip it for a profit, don't get too angled in customizing every inch of the home. You need to let a potential buyer be able to visualize themselves in the home.
If you're purchasing the fixer-upper to create your dream home, make sure that you're adding home additions that are up to your satisfaction and make that home your own, and put yourself in the right mindset to see the renovations through.
In the end, you'll wind up with a home that is remade to your liking and one that you can feel comfortable in, which is the best reason why fixer-uppers are so popular.