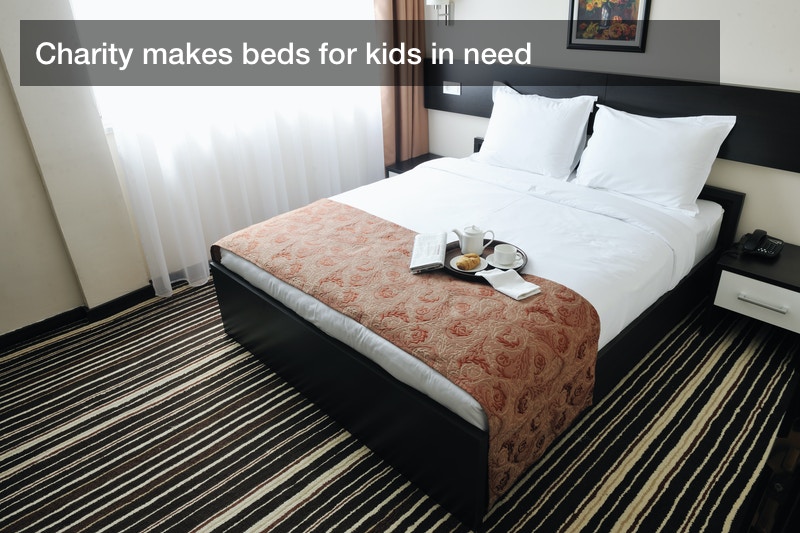 For some children, just having a bed to sleep in at night is a precious gift. Over the past year, one charity has donated 100 beds to kids in East Central Indiana. In this Fox 59 segment from Randolph County, we learn about Sweet Dreams, a local charity that provides free beds for needy children between the ages of 3 to 15. Supported by donated funds and materials, Sweet Dreams believes that no kid should have to sleep on the floor.
Started in 2019 by Jason Knasinski and his family, the charity services families within a 20-mile radius of their headquarters in Winchester, Indiana. Needy families come from many different circumstances: Some are experiencing job loss, a change in residence, or family structure shake-ups. One thing every recipient has in common is their parents are in financial need of assistance and unable to purchase a bed on their own.
Each bed costs Sweet Dreams $225 to construct. Beds include a mattress, comforter, and sheets. While partners within the community have donated materials to the cause, they are always in need of more donations to try and meet the demand for beds. The charity's website provides a list of needed materials. Among them are mattresses and bedding for small children on the waitlist, which easily numbers 40 recipients or more.
According to the Sleep Foundation, children who do not sleep well at night experience disruptions to their daily lives that negatively impact their physical and mental health. Students who don't get adequate, comfortable rest suffer academically and may exhibit behavioral problems with adults and peers. Poor sleep can also endanger cardiovascular health later in life, leading to higher chances of developing obesity, high blood pressure, or diabetes. For these reasons and more it's important for children to sleep in a comfortable, safe bed every night.
Those in Randolph County interested in donating materials, money, or volunteering their time can contact Sweet Dreams via their website. Material donations can be shipped or dropped off at their location in Winchester.
Persons living outside their service area who would like to provide for, or who are in need of, a bed for kids can find a local charity through programs such as Cribs for Kids or Sleep In Heavenly Peace. Many of these charities may also provide information or support for those who would like to start up a program in their own local community.