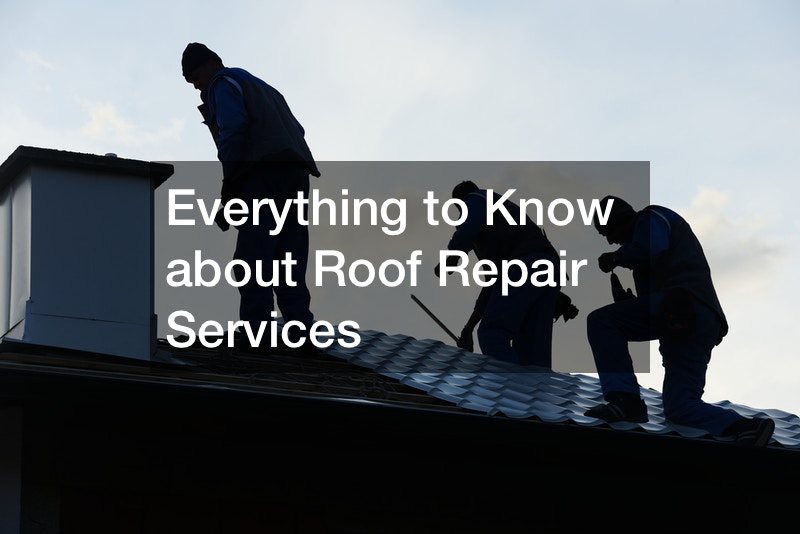 Most homeowners find themselves in dilemmas regarding their roofs. Roof issues, which include leaks and damage, are a huge expense that many don't anticipate. While building a home or renovating one, it is crucial to consult with a local residential roofer. Roofing contractors have qualifications such as; experience, insurance, licenses, providing an estimate, providing reference, and bonding.
Some of the commercial roof repair services include;
Weatherproofing
One of the major reasons homeowners should consult with roof experts is to ensure your roof is weatherproof. A weatherproof roof will withstand extreme weather conditions, and not just the roof is not just waterproof. It is vital to note that the roof is prone to damage either from the harsh hot climate or cold climatic changes, regardless of your house location. You can safeguard your roof and have it weatherproof by consulting with roof experts.
· Gutter guards
While installing your roof, you should ensure you install gutter guards. Gutters work as pipes by collecting water that has dripped from the roof caused by snow and rain. The purpose of gutter guards is to ensure that water flows without any barriers. Moreover, the gutter guards keep the gutter free from barriers such as debris and dried leaves.
· Attic insulation
The attic is a barrier between the exterior part of the home and the ceiling. The level of heat absorbed by your roof is moderated by upgrading the attics insulation system. In the cold season, poor attic insulation will form ice due to the snow melting. Ice buildup extremely damages the roof.
· Fireproof materials
Some roof materials such as slate tiles and concrete can withstand heat pressure and extreme conditions, thus preventing discoloration and fire. One should choose fireproof materials to prevent wear out and protect the roofing system's main points, such as walls.
· Deicing cables
Installing deicing cables to the home is important to help the inflow of water when the gutter is clogged. Deicing cables prevent ice buildup by melting the ice. In most cases, the deicing cables will be placed where the ice builds upmost. Moreover, a residential roofer will place deicing cables beneath tiles and across the sections of the roof.
Sealing, Painting, Or Treating
Roof sealing increases the roof's life expectancy and the overall value of the house. Roof sealing is especially advocated for a flat roof as they collect debris and water. Sealing a roof provides an extra coating to your roof, ensuring that the roof is protected from outdoor elements and extreme climatic conditions. The average cost of sealing a roof ranges between 400-2000 dollars.
Roof painting is often referred to as roof coating. The life expectancy of a painted roof may last between 5-15 years. There are different types of coating, and a good coating material may last more than 15 years with high maintenance. High-quality silicone is one of the best materials to use while coating. Painting a roof is a DIY project. However, hiring equipment and equipment can be expensive.
Some of the common misconceptions that commercial roofing companies use as sales tactics for roof painting include:
· Roof coating makes the tiles waterproof. The fact is that tiles are waterproof, and a broken tile will lead to a leak.
· Roof painting protects the roof from leaks. The fact is that roof painting is mostly cosmetic, and only commercial inspection and repairs on broken tiles will prevent roof leaks.
· Roof painting is a substitute for roof coating. The fact is that some roofing materials, such as concrete roof tiles, have a life expectancy of 70 years, and roof coating will not prevent deterioration. Moreover, in this case, the roof will need a replacement.
· Roof painting prevents the growth of moss. The fact is that roof treatment wears off and works for a limited time. Your roof requires regular treatment in the future to sustain it.
Roof treatment is one of the methods of roof maintenance. Algae and moss on the roof are troublesome and may lead to extreme damage. One can get rid of moss naturally by mixing water with baking soda and spraying it on the roof. The best time to get rid of algae and moss is when it is growing. Dead moss will fall off the roof through the gutter. Thus, it is vital to ensure that gutter guards are present to prevent any barriers.
Roof Cleaning
It is extremely dangerous to clean your roof without proper knowledge. Whether you are hiring roofing services or a DIY project, you should be aware of the intricacies of roof cleaning. A good clean roof will prevent future damage, reduce costs and the number of cleanings. Some of the recommendations that roofing companies advise on roof cleaning include;
Using environmental products to kill the moss and algae. Using safe products will prevent any regrowth of moss and algae.
Avoid using pressure washing. It would be suitable if you used a low-pressure garden hose to prevent pitting the tiles and blasting the shingles' protective granules. Additionally, pressure washing may blow the moss and algae under the tiles, requiring more cleanup.
Use products that major manufacturers recommend. Some cleaning chemicals are harsh and may damage the roof shingles and tiles, and underlayment.
Ventilating
The main purpose of roof vents is to moderate the temperature in the roof space or attic. The reason why roof vents are important is that warm air rises. In the winter, the roof space or attic is warmed by heat from home. In contrast, in summer, the attic or roof space is heated by the sun. Roof vents are important in all seasons to prevent moisture from building up. Attic ventilation is a necessity because it allows the house to breathe. The attic vents allow heat to escape and push in the fresh air.
There are two types of attic ventilation; active and passive. The former involves moving the air in the attic by forces such as wind, while the latter involves pushing the air out from inside and pulling the air in from outside. Both types of ventilation work well, and each system has different types to choose from. The types of active roof vents include; power, ridge, turbine, and solar-powered. Passive roof vents include; gable end vents, static vents, and ridge vents without a baffle. The ventilation system and type you choose depend on the purpose you want to achieve and the look you want to give your house.
Basic terminologies that one may come across in roof repair services are roofing and roofing services. The former is the material used to repair or build a roof. The latter means companies that offer roof services either to residential or commercial properties. There are various types of roofs, from manufactured to natural ones. Here are quick facts about roofs:
· One of the coolest materials to use is metal roofs because it has a solar reflectance of 70%, lowering energy costs and ensuring the building remains cool.
· The best roof for a hot climate is a metal roof and slate. Slate is made of stone, making it impervious to heat and sun.
· The best type of roof should be light, easy to install, and affordable.
· The roofing material that lasts is made up of clay, slate tiles, and concrete.
· The lightest roof material on the market is a metal roof. Hard to believe metal roofs are light in all standard materials used. The metal roof is ultra-durable and ultra-strong.
CRITERIA IN CHOOSING HOME BUILDERS
Budget
There are various specialized builders, from luxury builders, top-end custom designs, mid-range project homes, and first-time buyer homes. Before commencing the construction process, it is vital to include the right builder before commencing the construction process as prices, business model, and repeated design differ.
Experience
A well-experienced builder will put his knowledge and expertise into your project, ensuring you get both service and quality. The builders' efficiency is dependent on experience and amounts of knowledge. Check the reviews of the builder to ensure you get quality service. A builder with sufficient experience has enough knowledge of the material to use, the evolving architecture, and the industry. Moreover, an experienced builder consistently performs in all his projects.
Licenses and accreditations
Before commencing the construction project, it is essential to research the builder's legal embroilments or litigations. Different counties and states have different laws on builders. Checking the builder's authenticity, licenses, and certifications from reputable local organizations will prevent you from future lawsuits and financial losses.
Quality over quantity
When selecting a home builder, you should evaluate quality over quantity. The home builder you choose should be savvy in working on the budget. A good builder has established connections with contractors; thus, it will save you lots of money and time. However, your home builder should not be an extreme penny pincher to skimp on important factors like safety. A good home builder will give the right advice and prevent future costs from shoddy work. It is crucial to invest in work that won't be easy and cheap and forego expenses that are easily replaceable in the future.
Location
When choosing a home builder, it is vital to select one who works in your proposed area. Some home builders may ask for a contingency fee if the project site is far from their working area, and these, in turn, may add costs. Finding a company that is well presented on your proposed site will save you costs and reduce delays. Additionally, building in the upcountry and outlying suburbs may be more expensive than the metro area because of the transportation costs of building materials.
Electricians and Their Role in Construction
An electrician repairs, operates, maintains, and installs electrical equipment. There are certain specialties that electricians can specialize in. They include:
· Construction electricians
Construction electricians, the electrical and wiring components have a code, work efficiently, and are safe. These electricians focus on larger projects such as installing an electrical system and upgrading an entire floor. The work of a construction electrician is challenging as it involves working with oversized appliances, high voltage systems, and varying energy needs, loading materials, and demands.
· Industrial electricians
As the name suggests, industrial electricians work in manufacturing industries such as mills, planer facilities, and pellet plants. They are also known as mill electricians and electrical repairers. The main job of an industrial electrician every day is to prevent the industrial plant from shutting down by repairing a critical electrical fault.
· Commercial electricians
A commercial electrician works in restaurants, government offices, shopping malls, and buildings. The main role of a commercial electrician is to get rid of inadequate circuits, maintain wiring, and make installations. Moreover, commercial electricians work in commercial buildings installing lighting and power outlets.
· Residential electricians
The main tasks involve:
Installing distribution and electrical control equipment.
Performing maintenance procedures.
Installing brackets and hangers to support electrical products in a home.
Other types of electricians' specialty include; maintenance electricians, installation electricians, automotive electricians, marine electricians, and highway systems electricians. It is crucial to be sure of the electrician you are hiring to meet your construction needs.
Masons and Their Role in Construction
Masonry involves using natural stones, bricks, or concrete blocks to build chimneys, fences, walls, and walkways. Similar to electricians, masonry has specializations depending on the building material used. The workers may be stonemasons, block masons, and brick masons. The role of a mason is very important in construction. Masons need dependability, motivation, the ability to take the initiative, and interpersonal communication skills. The role of a mason in construction cannot be overlooked as he repairs structures and surfaces and builds them.
It takes different people to repair and construct a property. It takes a lot of work to select a team that will ensure your dream comes into a reality. Honesty and transparency are key to ensuring that you get the best repairs and replacements. Ensure you do a lot of research before, during, and after the construction. Good research will ensure you ask the right questions. Yes, some home projects are DIY but ensure you are knowledgeable in the projects to prevent accidents that may endanger your health and the safety of others.