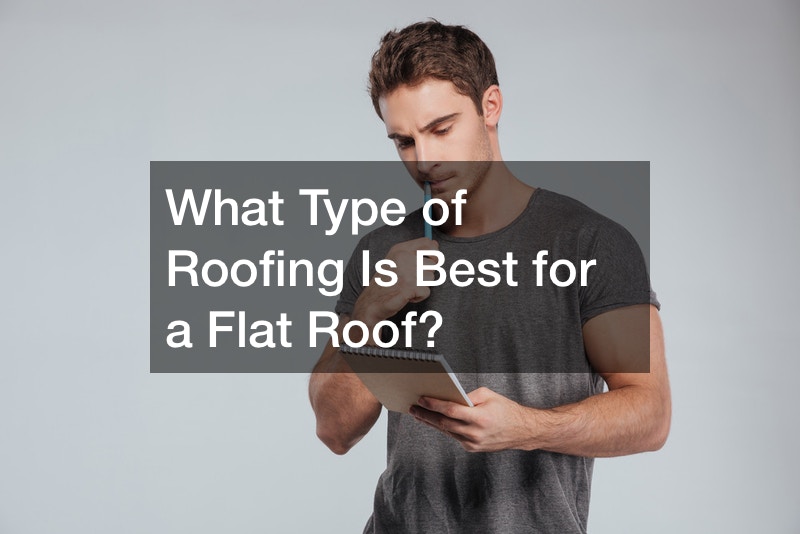 Your roof provides you with three invaluable benefits: better protection, improved home value and enhanced energy efficiency. It also plays a significant role in boosting your curb appeal. Here, the level of attractiveness will depend on the type of roofing you consider. The question is, what type of roofing is best for a flat roof? The following insights will help you understand why flat roofs are better and what roofing works best.
What Is a Flat Roof?
A flat roof is characterized by levelness. These roofs are often laid to a sloping rest, allowing rainwater to run off down the slope. Its slope is approximately ten degrees, which is much lower than what you expect from other roof types. This aspect helps minimize water stagnation, consequently protecting your roof against corrosion and wear.
You want to ask, what type of roofing is best for a flat roof? But first, where is a flat roof suitable? Flat roofs are an excellent choice for commercial properties. You could attribute this to the ample space offered. Besides, you can convert the space created to a functional unit, generating significant income from it in the long run.
These flat roofs are famous for their ease of accessibility. You can get to them without too much struggle or safety issues. Whether you want to inspect, maintain, or repair flat roofs, you'll be confident of a relatively flat surface that allows for safer walking.
Various types of flat roofs suffice, often depending on the materials used. Each of these materials offers different satisfaction levels. So, what type of roofing is best for a flat roof? Here is a breakdown of what each of them brings to the table.
Modified Bitumen
Modified bitumen is a popular choice when building a flat roof. It is an asphalt-based material whose robustness makes it ideal for low slopes and flat roof structures. This roof comes with up to five layers of protection, ensuring that you get the utmost protection out of it. This permutation of layers will help ensure that the material is significantly effective.
As mentioned, modified bitumen boasts five layers: surfacing, adhesive, insulation, MB membranes, and Modified Base sheets. The insulation layer helps enhance thermal resistance and temperature stability. On the other hand, the adhesive layer is a waterproofing agent that requires a robust bonding agent.
You'll rely on the surfacing layer for excellent UV protection. This layer will also provide you with incredible weathering resistance. At the same time, modified bitumen membranes come reinforced with fiberglass or polyester.
Advantages of Modified Bitumen
Modified bitumen material comes with various benefits, including the following.
Multi-layer protection: Modified bitumen boasts up to five protection layers. These layers help protect your building against UV rays, increased temperature levels, and humidity. In addition, this protection assures you of excellent flexibility abilities.
Enhanced leak resistance: Modified bitumen will ensure that your roof does not leak. This aspect helps address the concerns that most people have: flat roofs are susceptible to leakage.
Seamless connection: You can install modified bitumen in three different ways: heat, self-adhesive, and cold adhesive. The choice often depends on personal preferences. Yet, each of these options assures you of enhanced consistency and a seamless connection between the sheets.
Durability: Modified bitumen can last for a significantly long time. You could attribute this to the reinforced layers it has, assuring you of incredible robustness. At the same time, the reinforcement implies that the roof can withstand extreme abuse and high foot traffic.
Maintenance: You'll love how affordable it is to maintain this flat roof option. Minimal care will protect you from unexpected repair costs. Besides, you can readily access this roof, meaning that you can repair it whenever necessary.
Affordability: The price of this modified bitumen varies with the coating and composition. Yet, the average cost is between $4 and $6 per square foot. Its ease of installation means that the labor costs will also remain significantly low.
Eco-friendliness: You can reuse or recycle modified bitumen whenever necessary. That means you'll not need to dump any waste into the environment.
Unfortunately, modified bitumen comes with its fair share of disadvantages. Some of these demerits will include the following.
Modified bitumen might not last for a very long time. Usually, this material lasts for between ten and 20 years, which is on the lower side. That means you might not reap as much value for money as you desire.
Its water resistance abilities are not impressive. That is because water is likely to get collected on the surface, causing further destruction over time.
The foul scent is typical when using modified bitumen. This odor will linger for a while after the installation.
Built-Up Roof
Are you asking yourself what type of roofing is best for a flat roof? You could also consider the built-up roof, which comprises gravel and tar. It is significantly popular, thanks to its attractiveness, energy efficiency, and ease of installation.
However, you need to pick the right roofing companies to install this roof. This way, you can be confident of enhanced value for money. General contractors and a roof specialist could come in handy.
Still, the BUR stands out for its robustness in what type of roofing is best for a flat roof. This option comes with significantly reliable materials which last for a long time. Such durability is critical for enhanced value for your money. As you ask, what type of roofing is best for a flat roof? Let BUR stand out.
It will also be vital to understand how thick the built-up roof is. This roofing option comes with multiple layers, meaning that it could be significantly dense. The thickness varies with the brand, and the layers included. However, on average, the thickness is approximately 36 inches. Further reinforcement with fiberglass could make the BUR much denser.
Advantages of Built-Up Roofs
The built-up roof comes with various advantages. They will often include the following.
Less costly roof maintenance: Since you might be on a budget, you'll want a roof that is significantly affordable to maintain. Thankfully, that is what you get from this BUR, which requires no additional expertise to maintain. You'll also not need to worry about repairs. Various experts could offer emergency roof repairs whenever necessary.
Multiple layers: This material comes with several layers, enhancing protection. Remember, these BUR roofs come with surfacing materials, ply sheets, and bitumen, adding layers. All these layers help protect you against UV and extreme temperatures.
Enhanced fire protection: Built-up roofs will not be susceptible to fires. You can attribute this to its fire-retardant properties. In addition, various types of BUR, mainly the cold built-up, do not produce any fumes.
Unrivaled durability: You'll fall in love with the efficiency and enhanced durability offered by this roof. These roofs will last for over 30 years, making them relatively eco-friendly options as well. Such longevity is likely to provide you with the value for money you envision.
Disadvantages of Built-Up Roofs
Some of the demerits of built-up roofs will include the following.
The installation process of these roofs could be significantly tedious. You'll need to hire a professional to get excellent results. However, the cold bitumen process can be a little more effortless if you are looking forward to installing this roof within a short time.
This option can be significantly costly in the long run. Its initial and labor costs could leave a dent in your finances.
q
What type of roofing is best for a flat roof? Commercial metal roofing is yet another option to consider. Usually, this roof boasts metal elements, guaranteeing you unrivaled durability. This type of roofing requires that the roof slopes slightly, allowing for rainwater to slip off effortlessly. The pitch will also come in handy in protecting the house against leaks and UV damage.
Metal roofing is an excellent choice for anyone looking forward to enhancing energy efficiency. That is because it can comfortably reflect solar heat, protecting the house from increased temperature levels. In addition, this material is less susceptible to fires and lightning. What's more, its robustness means that it can withstand extreme temperatures and high winds.
The metal used on your roof will often depend on personal preferences and budget. The options available include steel, copper, zinc, tin, and aluminum. Galvanized steel is relatively costly. On the other hand, you could consider tin or aluminum if you have a considerably tight budget. Hopefully, metal roofing will answer the question, what type of roofing is best for a flat roof?
Advantages of Metal Roofs
Some of the benefits of using metal roofs will include the following.
Enhanced lifespan: Metal roofs can last for a long time. In most cases, these roofs will stay for between 40 and 70 years, which is long enough to reap considerable value for your money.
Unrivaled Safety: A roofing contractor will recommend this option if you are looking for an option that's less susceptible to fire and lightning. That means your house is less likely to go up in flames.
Improved energy efficiency: Thanks to its ability to protect the house against increased temperature levels and UV, you'll not need to run your HVAC all the time. This way, you can save a lot on energy bills.
Sustainability: Metal roofs are considered eco-friendly and sustainable. That is because you can recycle them at the end of their lifespan. In addition, you can install metal roofs alongside insulation.
Disadvantages of Metal Roofs
Acquiring metal roofs can be significantly costly. However, they still assure you of the value for money over time.
Noise is inevitable when using metal roofing. This flat roofing becomes significantly noisy during hailstorms, rain, or wind.
Membrane Roof
What type of roofing is best for a flat roof, if not the membrane roof? The membrane roof is alternatively called a single-ply roof. This roof creates a significantly waterproof layer that helps protect the interior part of the house. This watertight nature implies that you get unrivaled protection in the long run. It will also be an ideal solution in instances when the water does not get shed immediately.
Well, what type of roofing is best for a flat roof with water-shedding issues? Experts will recommend this choice if you have a water-shedding problem. That is because this roof assures you of incredible shedding abilities. While it is not dense, you are confident of unrivaled protection at all times. In most cases, thinner materials are preferred for their ease of installation. Notably, this is what offers the best roof coating.
Various types of membrane roofs are available. You can consider the thermoset membrane, which is made from synthetic rubber. While it bonds fast and is fire-resistant, it cannot be reshaped. You'll also love how energy-efficient it is.
There is also the thermoplastic membrane, which creates no cross-links when it cures. That means you can reshape and reseal it whenever necessary. Lastly, there is the modified bitumen, which is a blend of asphalt and roofing membrane. This option is more robust and durable.
Advantages of Membrane Roof
Enhanced value for money: While this option can be a little affordable, it will last for long enough to offer you value for money. Besides its durability, it is waterproof, protecting you from leaks.
Eco-Friendliness: The material used on this membrane roofing is PVC, which is easy to recycle and reuse. It can comfortably reflect UV rays, keeping your house's temperature in check.
Robustness: This choice is considerably sturdy and able to withstand extreme abuse. The material is less resistant to rust, corrosion, and extreme temperatures too. That means you can use it regardless of the prevailing weather conditions.
Versatility: This membrane is versatile, as you can use it anywhere. In addition, you can install it without too much hassle, whether you want to use screws or adhesive glue.
Maintenance: As long as you want an easy-to-maintain roof, this option will suffice. There is no extra skill required to keep the roof in great condition.
Disadvantages of Membrane Roof
This roof tends to shrink from time to time.
There is a chance that it will puncture during cold seasons
Youll find it significantly challenging to repair this membrane roof when there is a need
Are you still wondering what type of roofing is best for a flat roof? Well, there is no one-dimensional answer to this. That is because the choice will vary with personal preferences, budget, and desired longevity. If you are looking for a watertight roof, the membrane roof will be an excellent choice. On the other hand, you could opt for a flat metal roof if you are looking for enhanced robustness and durability. The BUR is a great option when looking for accessibility.