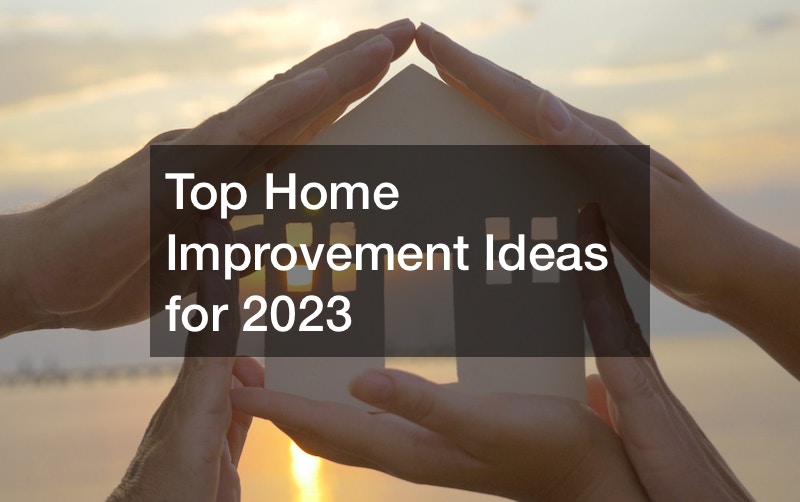 You want to enjoy your home for as long as you're there. Investing in home improvement projects is a great way of giving it a new lease of life. Here are nine upgrades that all home remodelers endorse.

1. Improve Your Landscape
As you think of ways to improve your home in 2023, pay attention to the state of your landscape. Your front yard often creates the first impression friends, acquaintances, neighbors, and potential purchasers have of your home. Plenty of simple and inexpensive approaches exist to revamp your home's landscape to enhance your property's curb appeal.
If a walkway leads to the front door, consider framing it with two large planters. The good thing about using plants is you have the freedom to select from a wide variety of species and styles, and you can change them according to the season. Even if your front door doesn't have a bold walkway leading up to it, placing planters on each side will make your front yard stand out and improve the landscaping.
If you don't have a walkway, consider installing one of stone. A stone walkway has a charming quality that inspires images of adorable homes and enchanted secret gardens. It doesn't matter if you have the smallest yard in the neighborhood. This addition will draw the eye of any onlooker to your front door.
If you're blessed with a large yard, maximize the space. Construct stone walkways all through your garden. Doing this will enhance your landscape's visual appeal and give guests a way to busk in the glory of your garden without stepping on your favorite blooms. You can opt for stone pavers for a modern touch, a classic walkway with natural-looking stepping stones, or a traditional brick walkway.
Introducing lines to your landscape is also a great way to elevate your landscape. You can do this by adding a border to the flower beds. Bricks are a popular choice for homeowners looking to edge their gardens, and there are endless possibilities for using them.
You could lay them down flat on their sides. However, have them placed at an angle for a more dramatic look. You can also opt for natural stones for a cozy cottage feel.
Whatever project you decide to take on, you can always benefit from the professional help of landscaping contractors. Like all home remodelers, these experts typically have years of experience dealing with different projects. They'll likely have several ideas for improving your landscape from the moment they see your property.
2. Maintain Your HVAC
Regular maintenance is the only secret to getting the most service out of your HVAC system's useful life. The lifespan of heating and cooling systems that undergo maintenance annually is significantly longer than neglected ones. Staying on top of your system's upkeep needs can give you 15 years or more of optimal home comfort.
Having a professional heating and air conditioning company routinely inspect your HVAC system also makes it possible to anticipate and plan for future repair needs. The technician can easily spot the early warning signs of the need for maintenance before issues develop into expensive repairs or system replacements. It's one of the ways this home improvement project will ultimately save you money. By catching issues early on, you can better plan your finances so you don't get caught unawares.
As taking your car in for a tune-up will improve its gas mileage, a yearly HVAC tune-up may increase your system's efficiency and the home's overall comfort. During a maintenance check, your HVAC professional will clean the outdoor unit of debris and dust that may have accumulated during the year. They'll also tighten any loose parts, swap out the air filters, check the refrigerant levels, and repair any air leaks. This thorough focus on detail leads to increased energy efficiency of your unit.
Like with all home remodelers, always vet any HVAC company you intend to hire. The last thing you want is an amateur working on one of your home's most important and expensive components. One way to do this is by checking the online reviews and testimonials of each contractor's past clients. You can also ask for the customers' contacts so you can talk to them about their first-hand experience.

3. Design Your Interior
When working on your home's interior, determine the style you're going for first. What mood do you want in your space? If you're struggling with establishing your style, a good idea is to look at your closet. Are you more into fitted clothing, or do you favor looser, comfortable clothing?
What are your favorite patterns or colors? Another way to narrow down your style is to consider key phrases that describe the feel you want in your space. Is it modern? sleek? monochromatic? playful? elegant/ formal? or traditional? Once you have answers to these questions, you'll better understand what you want to add to your interior spaces.
Decorating doesn't always require much work and money. You can fully remodel a temporary residence without even painting the walls. Consider adding patterned furniture and carpets instead. Combine playful accessories and artwork to create a cheerful and inviting atmosphere.
Wall murals are a great way of introducing a focal point in a room and radically changing a plain space. For instance, adding a dramatic wallpaper behind your bed will enhance the room's visual interest. You can then scatter cushions that feature one of the prominent colors of the wallpaper to bring everything together.
While you can always go the DIY route, consulting a professional interior design company is always a good idea. They'll help you make the right choices for your space. Note that not all home remodelers are interior design experts, so always ask to see samples of each professional's past work.
4. Maintain Your Electrical
Maintaining your home's electrical systems may not seem like a fun home improvement project, but it's worth every penny. Especially when you work with professional electrical maintenance companies. A professional electrician can inspect your home to identify potential repair needs to ensure they don't develop into bigger issues that wreak havoc on your entire home.
You can't see most of the electrical components in your home, making it harder to keep an eye on your system. An electrical contractor will easily spot fixtures, lighting, switches, or wires that may not function optimally. They'll then recommend the most efficient solutions to get the system back in working order.

5. Install Solar Panels
Residential solar energy is a hot topic today, and for good reason. Over the last several years, there has been a tremendous increase in the amount of solar energy linked to the electric grid, and now, approximately 4 million American households are already using solar panels to produce their own power, according to Energy Saver.
Solar panels can significantly lower your monthly energy costs. Considering how utility bills keep rising, going solar is expected to remain a wise financial decision for years. How much you save will depend on your electricity consumption, your solar energy system's size, and how much power it can produce.
You can always get a leased, third-party-owned system. This way, you can install solar panels on your rooftop and buy the electricity produced at a reduced price. Not only is this typically less expensive for you initially, but you also get fixed electricity rates for years.
However, if you have the financial ability, there's no reason you shouldn't work with solar companies to install solar panels you have total ownership over. You'll generate electricity on-site, which will be much cheaper in the long run. All home remodelers will tell you that this is a good idea.
6. Remove Trees
Removing trees from your property with the help of a local tree removal business is a great way of improving your home. While these magnificent monuments of nature can add a welcomed atmosphere to your outdoor spaces, they may also become unsightly once they develop overgrown branches and limbs. There's also the fact that, like every living thing, trees have a lifespan. Once they start to die, they won't do much for your property.
Pay attention to the condition of the trees in your yard. Have a professional remove any dying or damaged tree or one growing too close to your home. Think of it as addition by subtraction.
You'll free up space for other additions. For example, you can build a seating area and a fire pit, a basketball or tennis court, or even go all out and add an inground pool in the area you've cleared. Reducing the number of trees on your property can also give you a better view, especially if they're blocking your windows. However, remember that such trees can also give you valuable privacy.

7. Replace Your Gutters
Your home's gutter system is constantly exposed to the elements. Over time, some parts may become loose, while other sections may develop cracks that affect their ability to channel water away from your home. If your gutters are old, it's best to contact your local gutter installation expert to schedule a replacement.
New, modern gutters will offer better protection against water damage. Besides improving functionality, they'll also help boost your home's curb appeal. You get to kill two birds with one stone. Old gutters require a lot of maintenance to keep them in working condition.
This may mean spending a lot of time climbing ladders if you handle the tasks yourself. Getting new gutters will result in reduced upkeep needs. Consider investing in leaf guards to prevent clogging and overflowing. Ensure all home remodelers you consider for this project have the relevant experience.
8. Add Window Coverings
Window coverings can make a great addition to your list of home improvement projects. All home remodelers will tell you that new blinds from a local window coverings company will increase your home's privacy levels, improving your quality of life. They'll also minimize the heat transfer that occurs through your windows by obstructing sunlight and acting as insulation.
This means they not only add to the aesthetic appeal of your home but are also functional. New window covering will also give you more control over how much natural light enters your house, whether you'd like it to be bright and airy or snug and dark for a restful night's sleep. You can choose from several window coverings depending on your priorities.
Cellular shades provide great insulation during summer and winter. If your home has sliding glass doors or tall windows, you can opt for vertical blinds. They're affordable, making them great if your budget is tight.
8. Pave Your Driveway
Your driveway is one of the first things you see when walking or driving to your property. The same goes for your visitors. So make it count.
Concrete is a popular choice but not the best option. It stains easily and is more prone to cracks. Consider using asphalt instead.
All home remodelers agree that this material is durable and long-lasting. When installed by seasoned asphalt driveway contractors, it can last up to 15 – 20 years, according to WolfPaving. You can get even more service if you keep up with maintenance.
Asphalt paving also offers great water drainage. The porous option lets water pass through the asphalt and into a gravel base, which filters the water back into the ground. You won't have to worry about water pooling anymore.
9. Install Hurricane Doors and Windows
If you live in a hurricane-prone area, investing in a hurricane window and door installation is one of the best decisions you can make for you and your home. Impact-resistant doors and windows can withstand the force created by a strong storm or even deter a break-in attempt. This increased level of safety will allow you to get better insurance rates as providers use risk to determine premiums. That's why all home remodelers recommend them.
Compared to ordinary glass panes or single-pane windows, impact-resistant windows and doors have better noise reduction capabilities. Regular windows and doors don't provide much insulation from loud neighbors or traffic noise. Thanks to cutting-edge glazing technology, the thicker glass helps keep undesirable noise outside while letting natural light into the interior.
You don't have to start looking for a new home once things get boring. Consider making a few upgrades instead. Your space will feel like new again. Enlist the help of all home remodelers you possibly can.