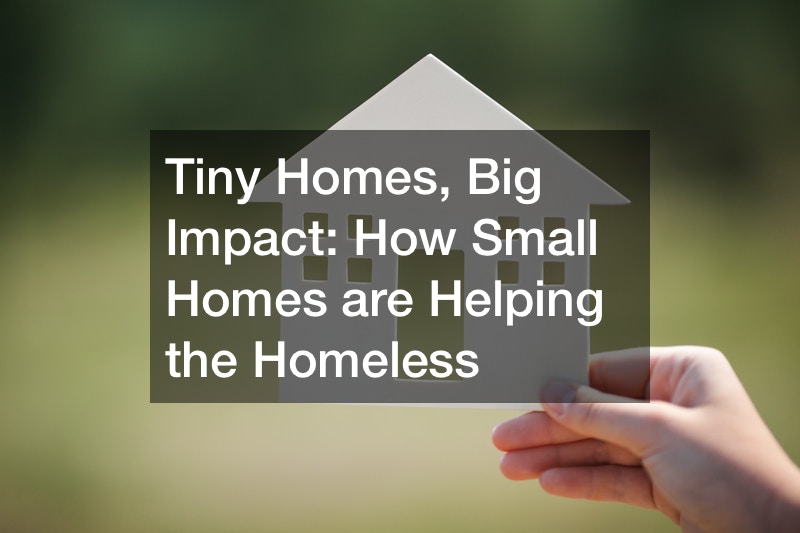 There are hundreds of thousands of homeless people in the United States. These are people that, for one reason or another, are not able to obtain housing for themselves. As a result, they typically either live in shelters or on the streets.
While some communities establish aid for homeless shelters and run donation drives, one community in California has taken a unique step to help the homeless.
Tiny Homes for the Homeless
There is now a small village comprised of tiny houses in the city of Oakland that is available for unhoused young people. According to abc7news.com, 22 tiny homes are available for people between the ages of 18 and 23 from Oakland or Berkeley who are homeless or at-risk. The community opened in mid-January, after being in the works for two years.
The village, which used to be an empty lot, is a lively acre of space comprised of bright tiny houses and beautiful murals created by young artists. Each unit has a custom-made bed that can be turned into a desk, a closet, and a skylight. The village also has a community kitchen and gardens where residents can plant vegetables.
The community is also empowering residents to take control of their lives and establish responsible habits. For instance, residents will be required to attend eight hours of job training weekly. If they already have a job, they'll pay one-third of their income in rent each month. The community has already received more than 100 applications for residency.
$1.25 million was raised for these tiny homes and fundraising efforts continue. The more funding the community gets, the more tiny homes they can build for those who need it most.
How To Build a Tiny Home For Yourself
This story shows how versatile and helpful tiny homes can be for people. They can help people in need find homes, or they can make the perfect home for someone who wants to downsize. Tiny homes are also a great option to explore for first time home buyers and builders. Since they're smaller, utilities like gas and electric generally aren't too expensive. If you don't mind living in a smaller space, tiny homes can help you save money and have a space to call your own.
You can add to this experience by building a tiny home of your own. If you want to learn how to build a tiny house, here are some tips to follow to create your own little slice of paradise.
Step 1: Determine How Tiny Your House Will Be
If you want to learn how to build a tiny house, the first step is to figure out what your definition of tiny is. How big is your tiny house going to be? Typically, tiny homes are between 100 and 400 square feet. It's up to you to determine if you want your tiny home to be on the smaller or larger side.
As you learn how to build a tiny house, remember that you'll also need to determine what fixtures you'll want in it. If you're going to have a kitchen, you can look into compact refrigerators and other compact appliances to save space. You'll also have to determine if you have enough space to furnish a living area, bathroom, and bedroom. Determining what your definition of "tiny" will be is an essential first step in the building process.
Step 2: Find a Piece of Land
As you learn how to build a tiny house, one key thing to do is find the right piece of land to put the house on. Do your research and see what plots are for sale in the area you want to live in. Since you'll have a tiny home you won't need a huge piece of land, but you can purchase whatever size lot you wish.
You want to find a piece of land that'll support your tiny home. For instance, you may want to stay away from land that's too wet if you don't want to deal with mold. You can always call a mold removal service to help get rid of any mold that emerges, but if you want to nip this issue in the bud, try to look for drier land.
When you learn how to build a tiny house, you'll also learn a lot about the land you're building it on. You'll figure out where the best place to build on it is and how to maintain it. Remember, you'll need to keep up with this lot while you also maintain your tiny home. Make sure you're ready for that responsibility, along with your tiny home responsibilities.
Step 3: Pick Your Features and Furnishing
Once you have the size of your home and the land picked out, the next step to tackle as you learn how to build a tiny house is to pick what features and furnishing you want in it. You have to choose wisely, as you may not have the space for everything you want. Prioritize these items based on their necessity. Do you need air conditioning? Do you need a fold-up kitchen table to help you save space or a small couch for comfort? Determine which features are more important than others and include them in your tiny home plans.
As you learn how to build a tiny house, remember that the features you choose will require maintenance. Air conditioning systems work wonders for keeping your space cool, but they need to be properly cared for to run efficiently. You'll also need to budget for heating and cooling repairs and prepare repairmen to work in your small home. Choose features that you need first and then figure out maintenance plans for them in your small home. The more you prepare now, the fewer headaches you'll have in the future. If you aren't entirely sure how to do this, you can always call air conditioning companies and see if they have any advice.
Step 4: Set Your Budget
One of the most important things to do as you learn how to build a tiny house is to set a realistic budget for yourself. How much money do you have for building the house, getting the land, and installing all the features you want? Setting a budget is essential if you want your tiny home to be the best it can be.
Think of all the things you want for your tiny home and itemize them. Get down to the nitty-gritty details, like if you want frameless glass doors or small fireplaces in your living room and bedroom. Then, compare that itemized list to your budget. Does it exceed your budget? If so, trim down your tiny home wishlist. If you're under your budget, you can either add items to your list or save the extra money. Having a budget will help you stay on track throughout the building process and
Step 5: Get The Materials
After you learn how to build a tiny house, the next step is to get the materials you need to put it together. This is where you determine what you want your tiny house to be made out of. Do you want hardwood floors and granite countertops? Or, do you want carpet on your flooring and a tile backsplash in your kitchen? Whatever your materials are, make sure you get enough of them. Sure, your house is tiny, but you still need enough materials to make it the home you want.
You can determine how much material you'll need by creating a blueprint of your tiny house. Getting an accurate number of square footage for your home will give you an idea of how much material you'll need for each room. If you aren't sure how to do this or how much material you need for your tiny home, you can always talk to an expert and get their input.
Step 6: Enlist Some Help
The more you learn how to build a tiny house, the more you realize how much work it truly takes to create it. Building a tiny house takes work, and it can be a lot to tackle on your own. Instead of doing it all by yourself, you can have others help you out. You can work with skilled home builders to build your tiny home and make it the home you've always wanted it to be. You can also hire residential painting professionals to help you paint your tiny home as you see fit.
Getting help with building your tiny home will help it get built faster and ensure it's built properly. You're investing a lot of money in this tiny home, after all, and you want it to be built correctly. Enlisting some help now can save you a lot of trouble down the line.
Step 7: Save a Home Emergency Fund
Like any home out there, tiny homes are susceptible to damage. It's important to have an emergency fund saved up in case any home emergencies come up. You never know when a roof leak will happen, and since you have a tiny home, the damage could be more widespread if it isn't fixed in time. You'll need money to pay for the roof, the roofing contractors, and any damage it caused. Something like this could cost thousands of dollars. You don't want to be caught off guard and worry about paying for this, so save up as much as you can and stash it in an emergency fund.
You can also start saving money for future upgrades and remodeling projects. This includes roof remodeling, bathroom remodeling, and kitchen remodeling. Kitchens are the most popular rooms to renovate in the home, after all. Things go out of style eventually, and it's normal to remodel your home to make it more modern down the line. Saving up money now for a future remodeling project can help you update your home and make it more valuable down the line.
Step 8: Plan Your Outdoor Space
Don't forget: your land is part of your home. If you want your tiny home to be the very best it can be, you can spruce up your outdoor space. You can update it to help entertain guests and create an ideal outdoor space for your lifestyle. You could install a fire pit, set up a hammock, and plant a couple of gardens. You could even take it a step further and set up outdoor games and a patio set to entertain guests.
Having an outdoor space can help you entertain guests in a more spacious place. Think about it: hosting company in a space under 500 square feet can get crowded quickly. Instead of worrying about where everyone will sit, you can have everyone comfortably sit outside and focus on enjoying one another's company. You can have the best of both worlds: you get your tiny home, and you get a space where you can entertain your family and friends comfortably.
You could even take your outdoor space up a notch by installing a pool or a hot tub. It's possible for a tiny house to have a full-sized hot tub and/or pool in its yard. You'll have to maintain these fixtures, though, and make sure they're working properly.
Step 9: Enjoy Your Time in Your Tiny Home
There's a great sense of pride and joy that comes with building your own home, no matter what size it is. Take the time to enjoy your tiny home and all it has to offer. After all, it's not every day you meet someone who lives in a space that's under 500 square feet. It's a unique experience you should embrace each day.
Tiny homes are great options for those who want to downsize and live in a smaller space. They can also provide affordable housing to those who need it most, as the small village in Oakland has shown us. The key things to remember are to think ahead and keep the goal in mind. If you do the research and plan the project properly, you can end up with a tiny home that holds a big place in your heart for years to come.