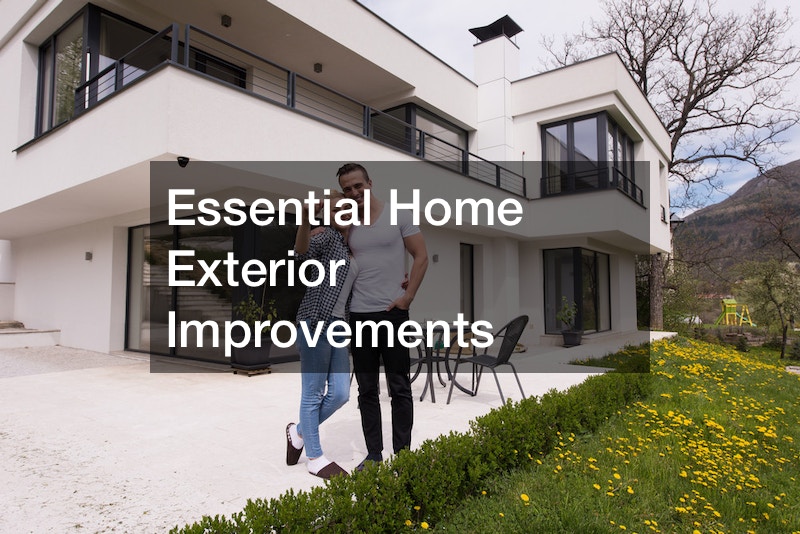 Your home's exterior is the first thing people see when they view your property, so it's vital to ensure it looks pristine. Exterior improvements upgrade your home's aesthetic appeal, increase its value, and protect it from the elements. Here are some upgrades you can accomplish to ensure your home looks excellent and receive protection from the elements.
Siding
Siding is one of the most integral and cost-effective aspects of exterior improvements. When updated, siding is financially rewarding and aesthetically pleasing. Siding is one of the essential features of your home that protects it from the elements and increases its value.
If you're considering updating your siding, keep several things in mind. First, you must select a durable material that will last long. Second, you must pick a material that's easy to maintain. Finally, it's crucial to choose an aesthetically pleasing material.
When selecting a suitable material for your siding, there are various options. The most prevalent options are aluminum, vinyl, and wood. Each option has its own set of pros and cons. Wood siding is one of the traditional choices and is usually the most costly. Vinyl siding is a more budget-friendly choice that's easy to maintain.
After choosing the material and style for your siding, you can install it. If you're uncomfortable or inexperienced installing it yourself, you can hire a professional siding company to do it for you. Installing siding is relatively straightforward, but ensuring you accomplish it correctly is crucial. Siding is one of the essential home improvements because it looks great and protects your home from the elements. If you're contemplating updating your siding, keep these tips in mind.
Roofs
Keeping your home's exterior in top condition is essential to ensuring its longevity, safety, and appearance. While most components in a home can undergo exterior improvements, the roof is one of the most crucial. It can significantly impact the property's overall appearance and is critical in shielding your home from the elements. There are several reasons why the roof is one of the most vital parts of your home.
First, it offers crucial protection from the elements. Whether excessive heat or inclement weather, your roof keeps your home comfortable and safe. Second, your roof significantly affects your home's energy efficiency. A well-sealed and well-insulated roof can lower your energy bills by keeping your home's temperature consistent.
Third, your roof can impact your home's curb appeal. A stunning, well-maintained roof can make your home more appealing to potential buyers and increase its resale value. You can do several things to keep your roof in tip-top condition.
First, have a roofing contractor regularly inspect it. They can detect any issues early on and prevent them from worsening. Second, keep your gutters clean. Clogged drains can cause water to accumulate on your roof, leading to leaks and other damage.
Third, trim any shrubs or trees near your home. Overhanging branches can damage your roof and cause leaks. Caring for your roof is vital to keeping your home in perfect condition. Regularly maintaining it can extend its lifespan and prevent costly repairs.
Windows
Windows are a staple in home exterior improvements, providing various advantages to homeowners. From improved home security and energy efficiency to cost-saving upkeep and installation, windows are a significant home improvement project a homeowner should accomplish. One essential benefit of windows is that they can upgrade your home's energy efficiency. In the hot months, windows can keep your home cooler by allowing natural light and preventing heat from entering your home. In the cold months, windows can keep your home warm by entrapping heat inside your home.
Another benefit of windows is they can upgrade your home's security. Windows are one of the weakest aspects of a home's defense against intruders. By investing in blinds installation and shatter-resistant windows, intruders will find it challenging to spy or break into your home, giving you peace of mind and keeping your loved ones safe.
Windows can also save you costs on installation and maintenance. Most homeowners overlook installing windows because they think it's too costly. However, installing energy-efficient windows can reduce energy bills and save costs in the long run.
Furthermore, an energy efficient impact window is low-maintenance, meaning you won't spend money on replacements or repairs over time. Investing in windows is an excellent option if you're looking for a home improvement project to enhance your home's security, value, energy efficiency, and more. Whether you want to replace your outdated windows or install new ones, tackling this project is an excellent decision for your home.
Driveways and Walkways
Home exterior improvements can enhance curb appeal, add value to your property, and provide an area for you and your loved ones to enjoy. Walkways and driveways are essential to these exterior home improvements, providing a visual aesthetic and boosting the practicality of your property's access. While driveways and walkways mostly derive from gravel, asphalt, or concrete, other materials can create a stylish and unique entrance to your home.
Pavers are available in various sizes, shapes, and colors, and you can arrange them in several patterns to create a one-of-a-kind appearance for your home. Brick driveways and walkways can add a touch of elegance and class to any home and are available in various colors to match your home's exterior.
Besides the various materials used to create driveways and walkways, several ways exist to enhance these essential home exterior features. Borders, flower beds, and other landscaping features can make your driveway or walkway stand out and upgrade your home's curb appeal. You can also add lighting fixtures to driveways and walkways to enhance the visibility and safety of these areas.
Whether you want to add value to your home, upgrade curb appeal, or create a more stylish and practical entrance, driveways and walkways are essential home improvements worth considering. They come in various sizes, shapes, and colors, and an asphalt paving company can arrange them in several patterns to create a unique appearance for your home. With multiple features and materials, you can easily create an exceptional entranceway that reflects your preference and complements your home's exterior.
Decks and Patios
Decks and patios are becoming an impressive component in most homes, adding extra space for family and friends to gather and enjoy the outdoors and value to the house. Homeowners often face the challenge of deciding which features they should invest in to upgrade the exterior of their homes. Decks and patios are fundamental options you shouldn't overlook when contemplating upgrades.
As the weather starts warming up, people increasingly spend more time outdoors. Enjoying the outdoors in your home's comfort is a luxury most people want to invest in. Decks and patios provide an ideal space to relax after a long day or entertain guests.
A well-designed and built deck or patio can increase the value of your home, making it a significant return on investment you can enjoy every day. Decks and patios make your home more marketable should you decide to sell. Prospective buyers always look for extra living space, and your deck or patio will be a selling point that separates your home from others on the market.
You can personalize your deck or patio to fit your style and needs. The possibilities are endless, whether you opt for elaborate fixtures like a louvered roof pergola or something more straightforward. You can also customize the materials to match your home's appearance. Various kinds of stone, composite materials, and wood can create an excellent outdoor space for you and your loved ones. If you want to improve your home's exterior, decks and patios are essential exterior improvements you won't regret, as they're a worthwhile investment.
Gardens
A well-maintained and visually attractive garden is one of the essential home exterior improvements, adding functional beauty and value to your property and providing a pleasant, welcoming ambiance. A garden is an attractive and enjoyable addition to a property and an excellent investment. While the initial investment in resources and time to establish a garden is significant, such as setting up a plant nursery, the long-term payoff is worth the effort. A garden adds monetary value to a property and provides several other benefits often valuable to homeowners.
It's no secret that first impressions are vital, especially regarding homes. Potential buyers gravitate toward properties with beautiful, well-maintained landscaping and gardens. A home with an impeccable exterior is more likely to sell quickly and for a higher price than one that requires landscaping or repair.
Besides increasing a home's value, gardens have several positive effects on the physical and mental of those maintaining them. Spending time in nature can reduce stress, enhance moods, and increase happiness. For those who can't go outside as often as they want, a garden is an ideal way to enjoy time in nature without leaving your home's comfort. Aside from the psychological benefits, you can gain several physical benefits from gardening. The physical activity required to maintain a garden can improve strength and stamina.
Finally, gardens can also lower a home's carbon footprint. Plants release oxygen and absorb carbon dioxide, making them a perfect way to offset a home's emissions. Furthermore, planting native species and using organic materials can lower a garden's environmental impact. Whether you want to upgrade your home's value, health, or environment, a garden is an excellent place to begin. With some effort, every homeowner can create a thriving and beautiful garden to provide years of enjoyment.
Trees
Home improvement renovations are often costly investments and provide many benefits. Trees are one of the essential exterior elements to consider when planning for exterior improvements. You must consider various aspects of having trees on your property, including the tree trimming services that will maintain them. Besides improving your home's curb appeal, trees can increase property value, enhance air quality, and offer various environmental and health benefits.
One of the most important benefits of trees is they can improve air quality. Trees absorb harmful air pollutants, such as ozone and carbon dioxide ozone. They also release oxygen into the atmosphere, improving air quality and reducing smog and other air pollution.
Another benefit of trees is they add to property values. Trees can make any home more appealing and valuable and lower energy costs. Finally, trees offer various health and environmental benefits by providing shade and cool air during hot months and reducing noise pollution. Despite their benefits, tree removal is crucial to removing dead or overhang branches and preserving your property's value and security.
Trees should be on your radar when planning a significant home exterior renovation project. Due to their many benefits, trees are essential home improvements to improve air quality, increase your home's value, and provide environmental and health benefits.
Pools
Home design or decor has dramatically shifted recently, mainly focusing on exterior improvements like pool installation. Pools are prevalent if you want to add visual appeal, recreational possibilities, and monetary value to your residence. One reason pools are a valuable home addition is you can use them throughout the year. A pool is an excellent way to cool down during the hot months in warmer climates.
Another reason to install a pool is for the financial benefits they provide. The initial investment in a pool adds value to your home and saves costs in the long run. Energy-efficient pools can lower your monthly utility bills and become an income source by hosting or renting pool parties.
Finally, pools are an ideal way to upgrade your home's appearance. A well-designed pool can serve as a focal point in your yard and complement your home's architecture. Whether you want a modern free-form design or a classic rectangular pool, pool contractors can help you find a suitable one for your needs. A pool is an excellent choice to add value to your home, save costs on your bills, or improve your yard's appearance. Pools offer homeowners various benefits, making them necessary for a home exterior improvement project.
You can accomplish various exterior improvements to improve your home's appearance and efficiency. These projects can transform your home into a functional space from siding to gardens. Following these tips, you can create a stunning and functional outdoor space.