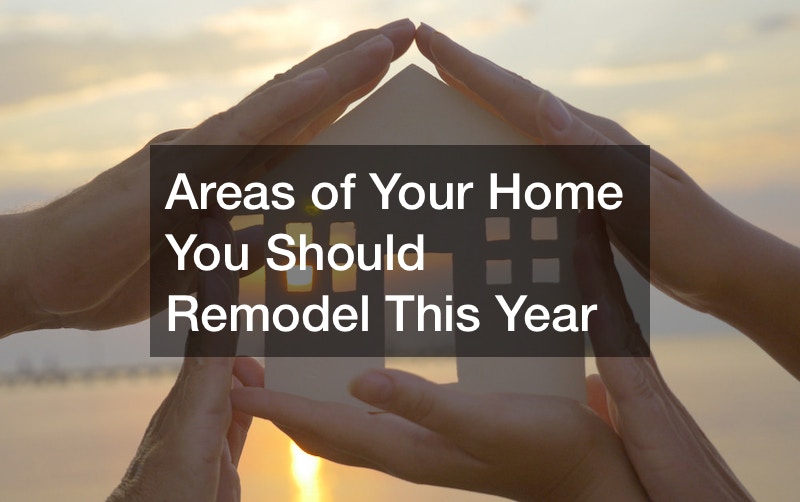 Many people work hard to find their dream home where they can spend the rest of their lives. However, it's tough to find a perfect home. You may always find something that's not up to your liking, be it the space, kitchen layout, etc. So instead, you should focus on remodeling your home to meet your needs, a trick many homeowners are now learning.
According to Angi, American homeowners spent $538 billion on home improvements in 2021. The reason for remodeling varies depending on the homeowner and can include improving the house to meet their needs, increasing property value, preparing for a sale, etc. However, whatever the case, a renovation is a great way to improve your home.
Knowing which areas to focus on and which remodeling services to hire is vital if you want to renovate your home. After all, some renovation projects can be too extravagant and have a low return on investment. This article will look at some of the top areas of your home you should remodel.
Top 8 Areas of Your Home to Remodel
Remodeling your home can be an expensive affair. According to HomeAdvisor, the average cost of home improvements is around $48,000, but some projects can be as high as $80,000. With such high prices, it's essential to figure out the most critical remodeling services to hire before you start planning your renovations. Interior decorating is another area you don't want to forget about. Once your home is updated, you need to make sure that it not only functions well but looks nice too. If you're in the process of renovating your home, below are the top areas you should focus on.
The Basement
According to the National Association of Realtors, basement remodeling is one of the top home renovation projects, with up to 86% return on investment. Finishing or updating your basement is thus a good idea if you want to add value to your home.
However, remodeling your basement will also offer you more benefits. For example, you get an extra room, which you can turn into a bedroom, office, gym, family room, home theatre, playroom, workshop, etc. A finished basement can also offer extra storage space, helping declutter your home.
When renovating your basement, the top basement remodeling service you'll need is flooring installation. Depending on your style, budget, and what you intend the room to be used for, you can consider several types of floors. Top options include vinyl, hardwood, concrete, ceramic, carpet, epoxy floor, etc.
Besides the floor, the wall is another important area you'll need to attend to when renovating your basement. For the walls, you can go with a fresh coat of paint if you're budget is stretched thin. However, if you have the money, you can invest in wall coverings such as drywall, engineered subfloor, wall panels, etc.
Other remodeling services to hire when finishing your basement include lighting, electrical, door installation, insulation, etc. Depending on what you're using the basement for, you might also need additional services such as plumbing.

The Kitchen
Kitchen renovations are another top home remodeling project for many homeowners. Like with a basement, redoing your kitchen can help increase your home's value. It can also offer you a more spacious and functional kitchen, more comfortable and safer kitchen space, improved home appeal, etc.
When renovating your kitchen, painting is one of the top home remodeling services to hire. You can give your kitchen and home a new look and feel with a fresh coat of paint. Besides painting, cabinet refinishing services are another way to improve the appeal of your kitchen by giving a brand-new look to your cabinets.
Other home remodeling services for your kitchen include countertop refinishing or replacement, flooring restoration, backsplash installation, sink replacement, etc. However, if you're planning for more extensive renovation, you can opt for complete kitchen remodeling. This way, you can change the floor layout, replace countertops and cabinets, and upgrade the sink, appliances, fixtures, etc.
The Bathroom
The bathroom is another top home remodeling project you can invest in. Like the basement and kitchen, it can help to increase your home's value. It can also help improve the functionality of your bathroom, improve safety, enhance your home's appeal, etc. However, bathroom remodels are expensive, so you must be selective about ich upgrades to focus on.
For the bathroom, flooring restoration or replacement are some of the top remodeling services to hire. Of course, your floors will need work if they have issues that need repairing. However, you can also opt for complete flooring replacement if you need more durable and stylish floors, but this will be more expensive. Besides the flooring, walls are another area you'll need to tackle. Depending on your budget, this might include repainting the walls or installing, restoring, or replacing the wall tiles.
Other bathroom renovation projects you can invest in include replacing the bathtub and showerhead, installing a bathtub, converting the tub or shower, etc. Simple upgrades such as installing new accessories and fixtures and changing the lighting can also give your bathroom a new look. Of course, with any of these – and other renovations – you'll need a good bathroom remodeling contractor to guide you through the process.

The Living Room
The living room is the focal point of your home, making it another top area to focus your remodeling efforts on. With living room renovations, you can significantly improve the appeal and comfort of your home. In addition, upgrading your living room is another excellent way of increasing your home's value, especially when selling, as such renovations often have a higher investment return.
Like with every other area of your home, hiring a painting contractor should be at the top of your to-do list when planning living room renovations. Painting is an inexpensive project that can instantly give your home a new and appealing look and feel.
Besides painting the walls, flooring is another one of the top remodeling services to hire when renovating the living room. For the floors, you can either refinish the existing one or do a complete replacement to give your home a new look.
Living room surfaces are also another top area to focus your renovations on. Repainting or other finishing services can give the surfaces and your living room a new look. However, you can also invest in new surfaces, for example, granite or quartz countertops, which can significantly improve the natural beauty of your home.
Other living room remodeling ideas that can give your home a new look include installing modern light fixtures, restoring or replacing furniture, upgrading living room appliances, hanging new art, etc. Of course, with some of the renovations, you'll need a home remodeling contractor to ensure that your living room is redone professionally.
The Bedrooms
Bedrooms are another top area to focus on when renovating your home. Remodeling a bedroom can increase your property value and offer you a return on investment of up to 74%. And while this is not as high as that of a bathroom, kitchen, or basement, it's still high enough to consider investing in your bedrooms. On top of adding value to your home, bedroom remodeling is also an excellent way of creating comfortable and relaxing living spaces for your family.
There are several renovation ideas you can choose from when renovating your bedroom. First, you can hire a painter to give your rooms a new coat of paint. You can also improve your bedroom's look, feel, and personality by changing the bedding and adding some décor, such as wall art.
For more extensive renovations, you can consider refinishing or replacing the floor. A new carpet and a few area rugs can also go a long way in making your bedrooms look and feel more inviting. Besides the flooring, replacement windows are also another great idea for bedroom remodeling. New windows can bring in more natural light, which significantly enhances the mood of a room.
Other remodeling services to hire when renovating bedrooms include lighting installation for new lights. You can also hire contractors to install a new bathroom in your bedrooms or renovate the ones already there for en suite rooms.

The Garage
Garage remodeling is another popular home improvement project that you should invest in. The garage has a massive effect on your home's curb appeal; therefore, renovating will significantly improve the appeal and value of your home. Remodeling your garage can also provide you with extra space for storage. Furthermore, you can convert your garage into a living area, for example, a spare bedroom, gym, workshop, etc.
One of the best places to start when renovating the garage is with a garage door. Since it's one of the most conspicuous features, any renovations will go a long way in improving your home's appeal. The upgrades you choose can be simple or extensive, depending on your budget and personal preference. For example, a fresh coat of paint and some LED light fixtures can significantly enhance your garage's appeal. Alternatively, you can do a complete garage door replacement – a service offered by several garage door companies.
Besides the door, the garage floor and walls are other vital areas you should upgrade. For the walls, you can go simple – a new coat of paint or consider installing new wall material. Likewise, for the floors, you can restore or refinish the existing floor or hire a flooring contractor to replace it.
The Yard
The yard is another important area to pay attention to when remodeling your home. According to a Houzz study, more than 50% of homeowners undertake an outdoor project during home renovations. There's a good reason why outdoor renovations are popular. First, they can increase your home's curb appeal and, consequently, its value. Outdoor projects also help to create more comfortable and relaxing living spaces.
There are many yard renovation projects you can undertake. To start with, you can hire landscaping services to plant or maintain your home's lawn. You can also create a garden bed and plant some ornamental plants, adding color to your outdoors.
Other excellent outdoor remodeling projects are installing pathways, walkways, and a patio. These will help create a colorful contrast with your green spaces, making your home more beautiful. It also provides a clean, organized, and neat look for your exterior, thus, significantly improving your home's curb appeal.
Other top remodeling services to hire when renovating your yard include backyard fence installation, garden landscape lighting, security lighting, water feature installation, etc. All these can help significantly improve the appeal and comfort of your outdoor living spaces.

The Closets
Closets are not very conspicuous in your home but are still vital. After all, they are the basis of a well-organized house. As such, they can help create comfortable and appealing living spaces by reducing clutter and giving your home a neat look. So, if you're still looking for more areas to renovate, closets are an excellent idea.
When renovating your closets, your primary focus should be your storage needs. But, of course, you'll also need to consider other factors, such as the design and the layout of your room, available space, and budget. Once you've all these figured out, you can hire closet remodelers to start working on meeting your storage needs.
The bedroom will be the main focus of your closet remodeling project. You can find several cool ideas for your bedroom closets, such as a walk-in closet, a custom built-in closet, or a free-standing wardrobe. Besides the bedrooms, you can install closets in other areas of your home. For example, a linen closet in the bathroom or other unused spaces such as under the staircase and in the attic if you need more storage space.
Besides a closet remodeling contractor, other remodeling services to hire when redoing your closets include painting and electrical services. In addition, you can enhance the look of your closets with a bit of color, especially by painting the back walls. Lastly, you can add some wow to your closets by installing light fixtures in the interior or above the door frame.
Remodeling your home can offer you many benefits, from increasing its value to providing more space, improving the appearance and comfort of your house, and more. However, before planning any renovation, finding the ideal areas of your home where your renovation projects will have the most impact is essential. The above is a look at some of the top areas of the house to renovate and the various home remodeling services to hire when undertaking your project.