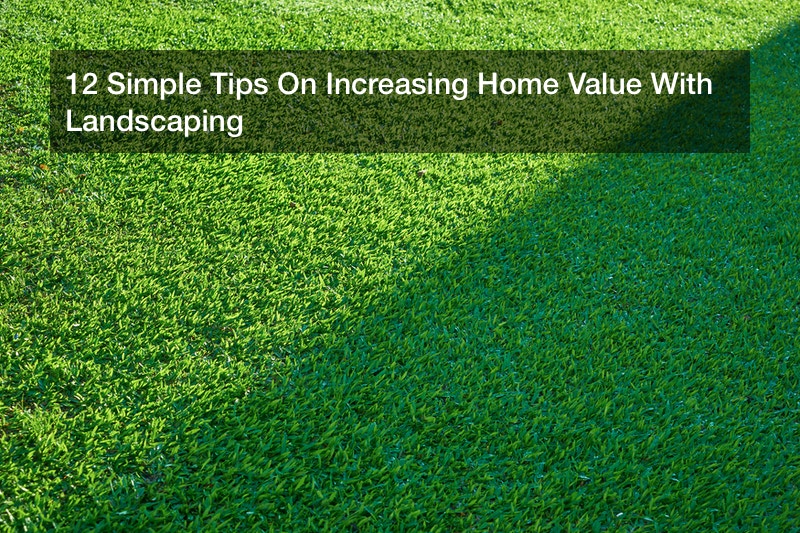 First impressions and curb appeal play a major role when selling your home. Potential buyers overlook homes that aren't impressive to the naked eye. Home improvement methods like installing outside fire pits come with a 78% ROI (Return On Investment). A kitchen renovation will also help your home look in its element. To crown it all, landscaping improves the aesthetics of your home. Consequently, your home's value goes a notch higher. For the best result, seeking help from landscaping trained specialists is the way to go. Such professionals might even offer bonuses such as a home improvement video after hiring them.
Sure, selling your home today, or in the next few months, might not be what you have in mind. However, planning for the future will be a step in the right direction. Early tree planting, for example, means that they will mature as time goes by. With that said, it's now time to have a look at landscaping ideas that help increase home appraisal.
1. Lighting
Lighting is a key driver when it comes to taking curb appeal to a whole new level. The market today offers a wide array of outdoor lighting options. In fact, the only limitation is your budget and HOA (Home Owners Association) bylaws. Remember that a yard that is well-lit helps improve security. Wired lighting is not a good match for some yards. In such a case, solar accent lighting will come in handy after placing them around your fencing or paths. The good news is that solar landscape lighting is locally available and comes at a wallet-friendly price. A well lit outdoor space looks more appealing at night.
2. Plant Trees and Shrubs
Trees and shrubs are an excellent way of gifting your yard an inviting and plush appearance. They also go a long way in increasing privacy, something that seems to be in short supply nowadays. Tree planting in the proper area can actually lower air conditioning costs. Science also tell us that trees eradicate pollution and carbon dioxide from the environment. This explains why homeowners consider them among the best ecofriendly options. What is more, people love gazing at leafy views while relaxing under a shade. In short, trees offer an ideal climate that keeps stress at bay. With all these benefits, you now see why vegetation can help increase your home's price tag.
Planting trees does not always translate to costly and laborious maintenance. Truth is, there are numerous tree types that don't need extensive care and will still look great. Remember to always consult HOA rules and regulations lest you plant prohibited trees. With that said, some of the best tree varieties in this case are:
Magnolia Saucer
Chinese Pistache
Redbud
White Dogwood
Crape Myrtle
3. Add New Patio Furniture and a Walkway
Cooler and warmer months offer the best setting for outdoor living. Enjoying the elements of nature and enjoying home comfort is the dream of most homeowners. The combination of a concrete walkway and patio furniture can be what a potential buyer finds irresistible. It is along the same lines that driveway resurfacing will keep potential buyers hooked.
4. Outdoor Kitchen
An outdoor kitchen is among the best home improvement options when it comes to value addition. Sure, this might at first seem pricey in today's harsh economy. However, the price is worth it now that this is a home improvement feature that helps sell property faster. An outdoor kitchen helps your home stand out from the crowd. This makes it memorable making many buyers incline more towards it. Thanks to kitchen remodeling companies, setting up an outdoor kitchen is only a phone call away.
Something will seem amiss in an attractive outdoor kitchen having a lackluster floor. Installing textured concrete will ensure everything falls in the right place. Walls aren't compulsory when it comes to outdoor rooms. Even so, patio drapes offer a tad more of convenience in outdoor kitchens. The drapes guarantee privacy and block the sun, thus providing an ideal space.
Going beyond home improvement basics is a sure fire way of making things more appealing. So, installing a water feature, sound system, and trash compactor will be a step in the right direction. Other outdoor kitchen home improvement features are garbage disposal, pizza oven, and a fireplace.
5. Avoid Straight Lines and 90 Degree Angles
Never forget that landscape is usually a trip for the buyer's eyes. Under these circumstances, avoiding straight lines and 90 degree angles is essential. Why? While some lines pose no problem, an excess of straight lines lack a natural appeal. Creating curvy pathways will help wipe out any unnatural feel. Flowers planted in a natural-like curvy line will also achieve the same. Now that increasing home value is the main goal, you can never go wrong with making your yard more natural.
6. Infuse Texture and Color
An area with vibrant flora and leafy full plants adds excellent dimension, texture, and color to any landscape. Blooming plants, thick shrubbery, and attractive flowers instantly boost curb appeal as well. The addition of aromatic flowers and plants makes things even juicier. They go a long way in adding enthralling scents to invite butterflies and birds. Flowers are an affordable home improvement strategy that can help get the best price for your home.
7. Home Style and Landscape Matching
Extending your home style to the garden is a great way of increasing home value. The style of your yard should go hand in hand with that of your home's exterior. If you have a cottage, for instance, a Japanese garden isn't the best option. On the other hand, wooden items and a log cabin home are a good match. It is along the same lines that stucco garden pieces will go well with a stucco exterior home finish.
Contemporary home designs, like the industrial or prairie style, are no exception. Keep away from formal, square yards, or an excess of airy blooms if this sounds like your home. You should instead aim for creating a modernized landscape in this case. Natural looking beds and lots of greenery fitting your home's contours will help achieve this. In a nutshell, creating a harmonious eye balance needs to be your objective.
8. Design Strategically
As with any other home improvement, landscaping calls for strategic designing. This goes without saying that cluttering your garden with numerous high maintenance vegetation is bad. As well, plain grass devoid of appropriate landscaping is a big no-no. Properly designed interest points combined with solid planting foundation will boost your home's value.
On the same note, unexaggerated planting diversification is a good thing. A good mixture of perennials and shrubs form an ideal landscape. This does not mean including all the varieties in a garden center in town. Just enough variety with a uniform look will help spice things up.
9. Seasonal Balance
A plethora of spring blooms alone most likely won't attract purchasers during other times of the year. Therefore, you need to figure out a way to keep your landscape beautiful throughout the year. This means having evergreens during winter and brightly colored shrubs in the fall. Annual beds for summer and blooming bulbs during spring as well. Such a combination will keep the area looking in its element throughout. Sure, the majority of the buyers might prefer viewing your property during one season. But note that they will also see the seasonal balance created. The buyers won't help but imagine how attractive the place will look as the seasons change. With such year-round beauty, your house is likely to fetch a higher price.
10. Lawn Edging
Few things match the beauty of a carefully, vibrant, and healthy lawn. There is one exception though, and that is a neatly edged lawn with all these qualities. A properly edged lawn comes with a confined look making it seem easy to maintain. This tells the buyer that there's no weeding or whipping required. This is a selling point that will impress all interested buyers given the busy lifestyle today.
Edging along garden beds, sidewalks, and driveways can be a dealmaker. This shows potential purchasers how duteous you are in terms of property upkeep. The buyer will know that if you are diligent in yard maintenance, the same goes for other areas of the property. Consequently, you will have higher bargaining power as the seller.
For the best results, use a sharp edge or spade in making a smart separation between the walkways and the lawn. What is more, add stone, brick, timber, or any other physical barrier between the walkways and the lawn.
11. Potted Plants
There is no better way to add a tad more of variety and color to your home's exterior than planting potted plants. The plants are a big deal because they are a mobile home improvement that is easy to care for. It would be good to add outdoor plants to your driveway, porch, and other walkways. Such walkways having potted plants go a long way in making every buyer feel at home. Such a warm welcome boosts the odds in your favor. Adding an inviting door wreath and a welcoming doormat will also work in your favor.
12. Fresh Mulch
A dull and tired garden puts you at a disadvantage when selling your home. Fortunately, adding fresh mulch can help transform such a yard into one that is properly manicured and inviting. Buying mulch is not much expensive and you will, therefore, enjoy the value of each dime shelled out. What is more, there are many texture and shade varieties to choose from that fit your home's style. As always, make sure that the mulch you use is not against HOA rules and regulations.
There is more to excellently managed landscapes than just home value addition. Here are some of the environmental benefits that you need to know.
Environmental Benefits of a Well-Managed Landscape
1. Natural Coolant
Grass is without a doubt cooler than cement or asphalt. This makes it the perfect air conditioner for your garden.
2. Environment Purifiers
Grass is at the forefront when it comes to trapping smoke particles, dust, among other pollutants. It also produces oxygen as a byproduct during the process of photosynthesis which adds to purified air.
3. Water Protectors
Well-maintained lawns keep unhealthy runoff water at bay. This would otherwise find its way to water bodies.
4. Air Cleaners
Air pollution in the 21st century seems to be at an all-time high. Top on the air pollution list is carbon dioxide gas. Fortunately, vegetation such as grass absorb carbon dioxide and breaks it down into carbon and oxygen. Therefore, having a lawn at home supplies your living space with fresh air.
5. Noise Minimizers
Plants and lawns play an important role in eradicating noise pollution. With noise kept at a bare minimum, everybody enjoys peaceful nights. With a goodnight's sleep, work productivity goes a notch higher.
Summing Up
Fetching a great price is the main objective when selling any item. The same goes when it comes to selling a home thus a home improvement is something that needs serious consideration. Remember that every buyer wants to enjoy the value of every coin paid. He/she will therefore not go for anything that is not the best. Moreover, there are other homes for sale that make competition nothing short of cutthroat. Landscaping is among the best decisions you can ever make when the time to sell your property comes. It will help your property stay a step ahead of the others in terms of attracting potential buyers. Moreover, a leafy garden will make your stay at your home more exciting before you sell the property. You can also include shrubs and trees that yield fruits which will go a long way in enhancing your health. Getting the best landscaping results is not hard — the discussed tips will help you get it right the first time.