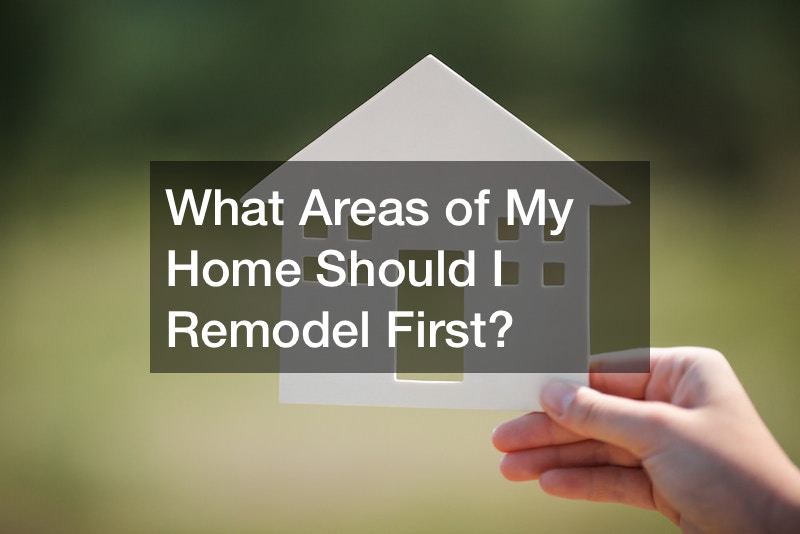 When you are considering home improvement projects, it can be very easy to go from thinking about a few coats of paint to planning a major remodel. Homeowners are never short on inspiration to make their homes more beautiful and comfortable, or more valuable to potential new home buyers. The wheels to renovate start spinning fast the second you start looking at paint chips. Still, you may wonder where to start. There are a few basic rules of thumb here on where to start. Kitchens, bathrooms, and garages are ideal starting places because these rooms will sell a home, and make life more comfortable. Learn more about how to make the most of your home improvement plans with these home remodel tips by the room right here.
Kitchen
A kitchen remodel is a common renovation project for every home improvement guru and homeowner alike. If you are performing a major home improvement here, you will want to consider a kitchen remodeling service that can help you with the planning. Real estate experts will say that a kitchen sells the home. If it is renovated or has new appliances, you will attract buyers.
At the same time, a newly renovated kitchen is a beautiful thing to have if you aren't moving any time soon. You may just want to recreate your space so that you can enjoy a new kitchen, an updated kitchen, or a fresher kitchen with more space to meet your kitchen dreams. A kitchen remodel can include everything from kitchen cabinet designers to a brand-new kitchen countertop installation. But you don't need quartz countertops to update and refinish your kitchen and still have a beautiful home improvement project.
It can be said that a new kitchen will give you a good return on your investment (ROI), but a new kitchen may just be better for new buyers. The ROI on a new kitchen can be anywhere from 50 to 70 percent, but that may not be what your home improvement project is about for you. You may just be tired of an old kitchen and want a new one. There are many different levels of kitchen remodels that you can begin when you are planning a new kitchen.
If ROI is important to you, a 28 thousand dollar kitchen remodel will add $20 20,000 to your home resale value at the 70 percent ROI rate. If it is not, fix your budget and create your dream kitchen the way that you want. Decide what it is about your kitchen that is bothering you first. If it just needs a paint job, start there.
New appliances are a key ticket item when you are planning your kitchen remodel. Getting a new fridge and stove is every homeowner's dream. This will add a resale value to the home if you are selling it very soon. But if you aren't, then you may want to add appliances that are tailored to you.
Today's new appliances are more energy efficient and more technologically savvy. Smart appliances that connect to other devices in the home, or even to your home's Wi-Fi network, are fun appliances to use if you spend a lot of time in the kitchen. Preheat the oven from your favorite living room chair and change the temperature on your fridge at the same time. Energy efficiency is important with new appliances as well, and a key feature you want to look for if you are upgrading your appliances.
Countertops and cabinets are another key feature in kitchen remodeling projects. If you are replacing your countertops, consider upgrading or updating them to a more durable material. The most common upgrades in kitchen counters include quartz and granite. These are very high-quality counters that can withstand heat and many other elements in the kitchen.
Custom cabinetry is another ideal starting point when remodeling a kitchen. If you can't update your existing cupboards, you can change the fixtures on them to more updated knobs and handles. Brass, silver, and other natural materials are common elements to add to a kitchen to update its look to an entirely new and more elegant room. A stone backsplash is another ideal way to update the room with natural materials in an affordable way.
If you are changing the fixtures on your cupboards, change the fixtures elsewhere as well to keep the budget low. Then you are not replacing entire items, but updating them. Brass or stainless steel fixtures throughout your entire kitchen create a look that is beautiful and fresh. When you are updating your kitchen, do your research to get the prices on large and minor updates, and this will make it easier to make your kitchen remodeling decisions and plans.
Bathroom
Bathrooms are another item on the list of homeowners that want to update their homes. Bathrooms can add a significant ROI to your home value, but it will depend on how extensive your remodeling is. You can add as much as $20 thousand to your home resale value, or get as much as a 60 percent ROI for a bathroom remodel. If you are merely adding a coat of paint or updating some fixtures, you may not see the same results.
However, if you are adding an entirely new shower and tub feature, or changing your bathroom vanity setup, your home improvement budget and ROI will be different. A bathroom remodeling contractor can help you to make those decisions. You may also want to consider a simple tile installation when remodeling your bathroom. This could change the look of the entire room on a much lower budget.
There are many things that may lead you to consider this home improvement project. The layout of your bathroom may bother you. If your family has grown since you purchased this home, or your needs have changed, the layout could be changed in your remodel. Life needs to change as we grow in a home, and your bathroom layout may be what you need to move around to update this part of your home. Safety features or more room for storage in or outside the bathtub area may be an ideal switch for you when remodeling.
A broken item in your bathroom is a common reason to start this home improvement project. If you have something that is broken, looks broken, or could be broken soon, you may want to start a renovation. The bathroom is an easy place for this to start because it is one of the most used rooms of the home. And in this room, things happen that can lead to more repair needs or remodeling needs.
Because there is major plumbing and electricity in this room, the bathroom repairs are not ones that you can let go of. Start with any loose fixtures, tiles, chipped paint, or peeling wallpaper, and make your list from there. Once you have listed what you need to repair, move to what you want to repair. You may have paint or colors that are outdated, or no longer in your style or tastes.
From here, you can move to other factors in a bathroom that you want to update. There are many ways to tweak a bathroom after you have performed the major changes. Add new linens, window dressings, shower curtains, and floor mats to give the room a colorful uplift. Bathroom storage is also very high in demand in this tiny room of the home.
Consider using the walls for built-ins in the bathroom to add more storage and more floor space to items you have sitting on the floors now. You may also want to add more cubbies and shelving to showers and bathtubs to hold the necessary items that are used here. Baskets and bins are popular things to add to a bathroom when you need to add more storage.
The remodeling budget for a bathroom will start at approximately 5 thousand dollars, but it will depend on what you do with your room. You can see a bathroom remodeling project on average cost approximately $20,000 when you begin to replace major features like a shower or tub. At the same time, the bathroom can be remodeled for as high or low a budget as you need.
Garage
A garage remodeling project may seem a little strange, but it could be an incredible home improvement project for you. If you are a homeowner who doesn't like to go into your garage, then a garage renovation might be ideal for you. This is a home improvement project that can be very low on the budget. Still, it will depend on what you do with the garage in order to make it your dream garage.
It may seem like there is not much that you can do with a garage in order to improve it, but this is a room that is easy to give an entirely new face. Consider new flooring, new paint on the walls, additional storage and racks for garage items, and a new garage door replacement. A new garage door is said to yield a 100 percent ROI for you and is a good investment.
A new door is a way to boost the curb appeal of your home, and also improve the efficiency of your garage. You may want to consider hiring a garage door spring services company to give you a quote. If it has been a while since you updated your garage door, you might be surprised at the range of options you have today. A new garage door will change the entire face of your home.
Storage space inside the garage can be maximized by adding garage cabinetry as well. Cabinets make your garage tidier in an instant. There are many different ways to do this if you don't want to install new cabinets. You can add cabinets or cupboards that go a little higher in the garage for items that are seasonal such as decorations or gardening equipment.
Another way to tidy up the garage and change the face of it in an instant is with storage racks and hooks. You can hang racks on spacing in the wall for larger items such as bicycles, gardening tools, and sports equipment. This will conserve floor space and declutter your garage quickly. It will also make it easier to keep your garage tidy and help you resist the temptation to keep bringing more clutter in here.
New flooring is another way to renovate the garage simply and affordably. Garage floors are typically concrete because they need to be durable and withstand a lot of greasy weight. An epoxy flooring that is easy to clean and drive on is a beautiful way to update the look of your garage. Epoxy flooring with polymer chemicals will also last a very long time and can have an impact on resale if you ever consider selling.
There are many other ways that you can renovate your garage. You can paint the walls and ceiling of the garage in order to clean up the look. You may also want to make your garage a smart garage and connect it to other components of the house. You can install home security and update the security of your home at the same time that you are remodeling the exterior and interior of your garage.
You can secure your home more by adding security pads to get into the garage. You can also add security features around the garage and its entrances. Connect it to other elements in the home to make your entire home more secure. Your garage can become one of the most useful rooms in the house!
Every home improvement project is stressful and expensive. But you can be creative and affordable at the same time. When you start with these rooms first, you will increase the value of your home from a simple renovation. You will also make your home more beautiful and comfortable to live in.