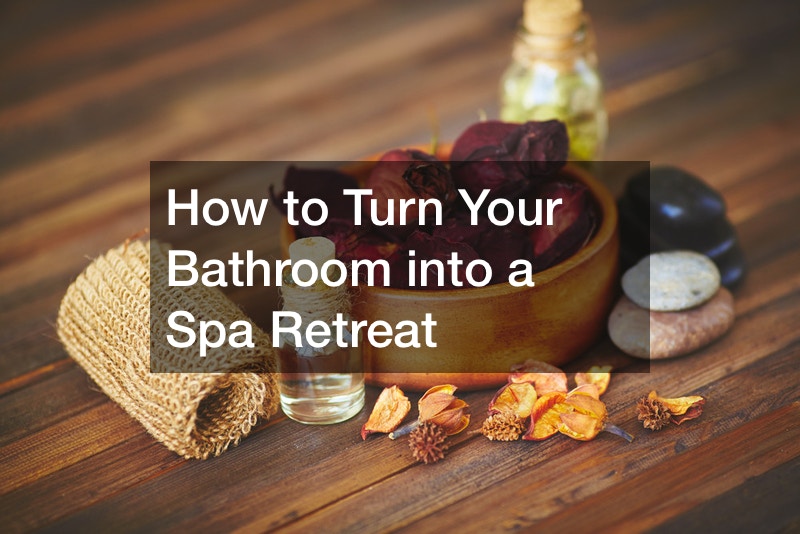 Coming home to unwind after a busy day of running around is unrivaled. And what better way to unwind than soaking in your tub with a spa-themed playlist and drink!
Are you curious about how to feel at ease, even in a modest or uninspiring bathroom? The secret is knowing precisely what needs to be added or taken away to create that desirable spa-like ambiance. These tips will transform your bathroom and turn every day into a spa day, whether your goal is to transform it into your personal sanctuary or you want to make a few tweaks to make it more pleasant.
Install Dimming Bathroom Lights
Are you wondering how to turn your bathroom into a spa retreat? Start with dimming your bathroom lights. Intentionally bright bathroom lighting makes it easier to see little details when getting ready in the morning. But that doesn't make them suitable for assisting you in falling asleep at night.
To dim the lighting at night, think about putting wall sconces or recessed ceiling lights with dimmer settings. Installing dimmer controls requires intricate circuits, wiring concerns as well as bathroom remodeling, which means it's best left to a skilled professional.
Pamper Yourself With A Soaking Tub
Your compact, shallow tub enclosure is probably not what you envision when considering a spa. The fact that your bathroom is small shouldn't prevent you from taking a soothing bath. Smaller tubs from bath manufacturers are available in a variety of sizes to fit any space. A traditional soaking hot tub is the best option because it is deeper and enables you to submerge your body, from the neck down fully. Most have built-in seats so you may relax in safety and comfort while taking a hot bath.
Improve your Shower Fixtures
Many homeowners picture a soaking tub when they think of a home spa. However, the majority won't utilize soaking tubs frequently. The shower is where most people spend most of their time, so why not enhance it? You won't need additional space for a massage shower head, but you'll use it daily.
Increase your experience by upgrading to a shower with many heads. Even within the limitations of where your current shower is located, a steam shower can be added, which calls for bathroom remodeling. Qualified plumbers can ensure everything is set up correctly and give you more suggestions on how to turn your bathroom into a spa retreat.
Introduce Sound
Consider mounting a television on the bathroom wall or utilizing surround sound to play your preferred music. For every event, playlists can be made. You can make a meditation soundtrack to help set a peaceful mood as you unwind in your soaker tub.
Remember that Details Make A Difference
The best things occasionally come in tiny packages. When trying to figure out how to turn your bathroom into a spa retreat, you don't have to make many changes. Upgrade the fixtures in your bathroom. Add a rack for warming towels. Install radiant heat beneath your tiles and upgrade your bathroom supplies. The smallest details often have the biggest impact.
Add Some Artwork
Add wall art to your bathroom to give it a more artistic feel. You can also include a coastal theme wallpaper and images that provide a soothing ambience. You may be sure that your bathroom will seem elegant and attractive with the artwork. These spa-like bathroom concepts will help you eliminate those dreary white tiles and substitute them with something more fascinating.
Decorate With Natural Materials
To decorate your bathroom, you don't have to go all out. When learning how to turn your bathroom into a spa retreat, you may have come across the concept of using natural materials instead of plastic or metal. These materials will be more durable than other materials and will be simple to clean. You should take their color into account when selecting these materials. Dark colours might be a good choice to achieve a rustic impression. However, you can choose lighter tones if you like light colours better.
Add Gold Accents
Any bathroom can be made more glam with gold touches. Gold decorations, like wall sconces, mirrors, and faucets, will improve the aesthetic appeal of your bathroom. For a more opulent appearance, you might also paint the walls gold. For instance, you can purchase gold robes, slippers, and towels. These goods will instantly turn your bathroom into a luxurious hideaway.
Add Plants
Plants are a fantastic addition if you are trying to determine how to turn your bathroom into a spa retreat. Not only do they enhance the air quality, but they also act as a source of oxygen. Additionally, plants take up moisture and lower the humidity levels. This indicates that they stop the spread of mould and mildew. Furthermore, plants also lower noise levels.
Analyze your Towel Storage
As you ponder how to turn your bathroom into a spa retreat, you should realize the little things that make the difference. A wooden ladder in place of a conventional towel bar will instantly warm up your appearance and give you a suitable location to display your expensive towels. They also give off an inviting organic feel that can only come from natural elements.
Cultivate a Ritual
Rituals are important in our daily life. We have customs for getting ready for bed, waking up, eating, and other occasions. Bathing is one of the most popular routines. Bathing is a ritual that enables us to physically and spiritually purify ourselves. To help you turn your bathroom into a tranquil retreat, think of it as a spa with all these features.
Attempt Neutral Tones
To make your bathroom feel fresh and serene, decorate it with soft creams, grays, or beige-coloured hues. To give the room a unified appearance, think about overlaying several tones of the same tone. In order to give your home a robust appearance without using too many vibrant and stimulating colours, perfect for relaxing, you can also use rich wood tones.
Regularly Clean Your Bathroom
Certainly, you have now grasped how to turn your bathroom into a spa retreat. However, a clean tub makes the relaxation period much more delightful, despite what would seem paradoxical. It is simpler to jump in the tub whenever possible and not worry about any potential filth after a weekly clean. Similar to pool cleaning, it's crucial to maintain good upkeep by cleaning your hot tub on a regular basis. Skin irritations are the most obvious risk associated with bathing in a hot tub that has not been properly cleaned.
Make Your Floors Warm
Rugs provide a further layer of opulent sophistication to a design and keep your bare feet comfy. For example, bathroom carpets are given a fashionable makeover with surprising yet lovely styles like these. For a modern touch of refinement, try using a kilim rug instead of a conventional bath mat. You can also change your overall floor makeover through affordable flooring.
Use Natural Wood
In addition to adding warmth and maybe dampening noise, natural materials and aspects will help promote quiet and serenity in the environment. To ensure that the humidity or steam won't harm your space, go for high-quality wood resistant to moisture.
Put the Essentials Away
Toilet paper and other toiletry items on display completely disrupt the spa experience. To conceal anything that isn't aesthetically pleasing, consider investing in some closed-off storage. Then, stock open shelves with ornamental objects like candles, artwork, and other things that can help you achieve a zen state of mind.
Prepare Amenities
The variety of high-end products on display is the finest part of visiting a spa, aside from the long list of relaxation therapies and massages! Comprehending how to turn your bathroom into a spa retreat entails preparing simple amenities. You may quickly create the atmosphere of a high-end spa or hotel by having your collection of products on display.
Introduce Flowing Curtains
By putting a light, translucent curtain on your bathroom window, you can create the impression of soft movement and flow. Are you lacking a window in the bathroom? To obtain the same result, think about replacing your shower curtain with one lighter and airier.
Consider Adding a Bidet
When attempting to create a spa-like bathroom, the toilet may not be the first thing that comes to mind, but purchasing a bidet or a bidet attachment will significantly alter how you perceive self-care. Most contemporary bidets may be installed on virtually any form of the toilet and include heated seats for enhanced comfort.
Consider Utilizing a Variety of Materials
To promote a feeling of calm and relaxation, combining contemporary materials with accents and furniture that are more nature-inspired is a fantastic idea. Even if you're working with a small or gloomy bathroom, it provides aesthetic interest and a natural flow between the indoors and the outdoors.
Fewer Visual Distractions
Particularly modestly sized bathrooms might become cluttered with everyday items. Place your items in front of doors and bins to give the impression of a large sanctuary. Choose containers with a clear, straightforward design of sturdy materials like glass, wood, or natural stone supply. Ensure you are in contact with glass repair services in the event of glass breakage or unprecedented accidents.
Light Candles
Don't undervalue the power of lighting when setting the mood for a soothing environment in your home spa! Candles will instantly improve the atmosphere, allowing you to relax after a stressful day. Consider having candles in place as you determine how to turn your bathroom into a spa retreat.
Get Rid of Outdated Dispensers
You'll be astonished by how drastically your appearance changes if you pour your soaps, shampoos, lotions, and potions into a separate set of coordinated dispensers. This method is simple to use and has a significant design impact.
Try an All-White Color Scheme
Starting with the color scheme, you can create a spa-like atmosphere. It's better to go white because spas are designed to radiate cleanliness, brightness, and purity. Choose tiling and cabinetry the same shade of white as your walls, which should be painted white or a warm off-white. You can hire a cabinet painter to help you out with the painting. Your towels should be white as well.
Make Magic With Shelving
Especially when it comes to the organizing difficulty in a small bathroom, shelving is a small space dweller's best friend. Your walls can be transformed with a few layers of open shelves, a few baskets for towels and luxurious soaps, and one or two accent pieces.
Enlist a Tub Caddy
Few activities are as soothing or indulgent as a long soak in the tub. This bamboo bath tray makes the soak even more pleasurable with a handy spot to set a book, a cup of tea, or a bottle of wine. The extended caddy has a metal reading rack that can store your book or tablet and non-slip silicone grips to keep it steady.
Invigorate Your Soak
You may enjoy spa routines for as little as cents every day by adding natural salts to your bath. Combine Epsom salt with pure essential oils to reduce stress and ease aches. Pour a few glasses into your bath to relax and relieve pain and tension.
You can create a spa-like bathroom that lets you unwind quietly and melt away the stress by adding relaxing features, updating fixtures, and reducing clutter. You don't need a significant bathroom redesign to build an at-home spa because it simply requires a few straightforward adjustments.
One of the most often utilized rooms in our homes is the bathroom. When it comes to home renovation initiatives, they are frequently overlooked. However, you may profit from it every day if you learn how to turn your bathroom into a spa retreat and a spa-like setting.