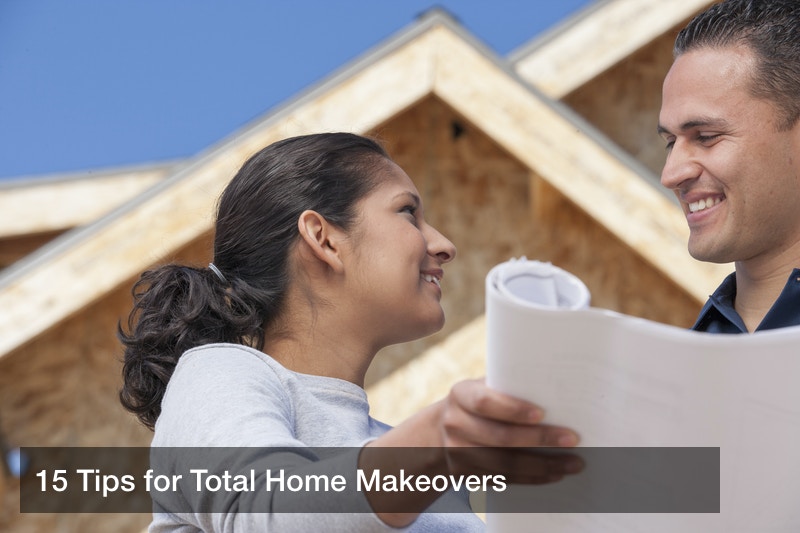 Having a home is one of the best investments today, and it is one of the only investments that the sooner you get, the more money you make guaranteed! Why is this? For starters, everyone wants to own a home eventually, and homebuyers are willing to pay big money to have a home that fits their dreams. From the location to nearby schools, floor plans, and remodeling, chances are the home you own is bound to be wanted by someone else. This is a good reason to invest in home-buying early, and as soon as you can afford. What does this mean? Well, you can invest in a home in a good location that might need some remodeling, and it will still be a good investment. Purchasing a home that needs a total home makeover is fine so long as you are able to budget for the project, know the home is located in a competitive market, and dedicate a little bit of time to fixing up the home.
Why Remodel?
Surprisingly, about 35% of remodeling jobs involve the entire home, also known as whole home renovations or total home makeover projects. This is for a good reason. Many times, you might find that an affordable home, especially if older, needs a little bit of work done to it in terms of renovating the kitchen, bathroom, plumbing, roofing, insulation, and everything in between. This isn't necessarily a bad thing. A total home makeover can be a great selling point to homebuyers, who trust that you've put in the necessary remodeling and renovation touches to the home.
What if I don't Want to Sell?
Like many homebuyers, you might just be looking for a home to retire or grow your family in and keep in the family. This is a great plan as well! It also makes it easier to dedicate more time, energy, and resources to do a total home makeover (after all, it is your permanent home). Whatever the case may be, whether you're looking to eventually sell your home, flip a run-down home for a profit, or want to keep your home forever, a total home makeover and renovation project can be just what you need to make your home a great asset. To get started, here are 15 tips you can use to get started on your makeover project. Always consult with the best contractors in town, and get the proper permits and permission from any HOA or city authorities.
1. Flooring
Flooring might not seem like a big issue at first, but on the contrary, wood floors can attract serious homebuyers and be a huge selling point in homes today. Carpets are beautiful if maintained, but most new homeowners simply don't have time to constantly maintain carpet. Installing new home flooring can be a great total home makeover project that will pay for itself in the long run. You can even choose sustainable flooring such as bamboo that is scratch-resistant, durable, and has a light feel to it. If you have an older home, check below the carpets and see if your home has original wood flooring as well.
2. Insulation
Old or inadequate insulation is not just uncomfortable to deal with during the hot summers and cold winters, but can also cost you money. The less insulated your home is, the more you'll likely spend on energy bills and heating costs. Ensure that the home you have has proper insulation, and follow your city's R-value guides. The R-Value of insulation is the thickness that the insulation is and how much heat it provides, and R-Value needs vary from home to home. Some great insulation options are spray-in foam or even fiberglass insulation.
3. Roofing
Perhaps one of the biggest expenses you will need to pay during your total home makeover is that of roofing costs. Roofing is essential to maintain and replace to avoid home damage during dangerous weather conditions, avoid leaks, mold, and inadequate insulation as well. Roofing can be cheap to repair when working on small projects, but a total roof replacement can start off at about $10,000. Because of this, even if you're flipping a home and considering a total home makeover, it's important to invest in a home that has a sturdy roof already attached. Ensure not just architectural tiles are properly in place, but that proper flashing is placed especially in areas that are prone to leaks such as valleys.
4. HVAC System
You HVAC system, also known as the heating, ventilation, and air conditioning system, is vital to having healthy, clean air circulating in your home. At a minimum, you should focus on getting filters replaced on the HVAC system of your home. However, you will need to ensure with the help of HVAC contractors that your system does not need to be replaced in your home anytime soon. HVAC systems are good for about 20 years and can give benefits such as unique air conditioning temperatures in every room of the home. Talk to your contractors about upgrades and proper filtration.
5. Plumbing
Plumbing is not just a hassle to deal with, but it can quickly grow to cost you big money, especially if issues arise with your sewage drainage system. Take care of plumbing issues when working on your total home makeover, and ensure that problems such as clogged toilets, continuous flushing toilets, and backed-up drains don't continue to bother either you or your future home buyers. If you're planning on building a home, consider in your custom home design how plumbing will be installed, and work with contractors to ensure your design is able to fit plumbing needs.
6. Painting
A home's interior and exterior paint can provide an entirely different feel to the home. Sadly, many times this paint goes un-maintained, and as a result, chipped, old faded paint can make your home look drab. Consider getting the help of professional painters to help you in hard-to-reach areas, and make an effort to paint your home in bright colors such as white, light blue, or green. These colors provide a comforting feel, and many times aren't an issue with your local HOA. For painting inside your home, go bold with unique colors if you choose, and feel free to use unique design patterns too!
7. Landscaping
Landscaping is an important part of any total home makeover. When you can hire a tree service to spruce up your trees, get rid of weeds, and re-do your front lawn, you can be sure your home will look more desirable to future home buyers. Landscaping can also allow you to insulate your home more with the help of trees, and even add on plants that will last you for a lifetime.
8. Sustainable Garden
Speaking of landscaping, installing a sustainable garden can also help you attract even the pickiest of home buyers. Drought-resistant plants such as cacti can be beneficial and even give a modern, beautiful look to your home. In addition, you can add a garden to your home that produces organic fruits and vegetables, as well as herbs to cook with throughout the year. Keep in mind that you will have to keep up with garden care, but it will be beneficial to your home and family in the long run.
9. Garage
Having a garage is a huge plus for any homebuyer. Many homeowners work long hours and don't want to park far away from their homes and walk to their homes once they come home from work. In addition, having a garage can be able to help you finish projects and even run a business on the side such as a carpentry business. A garage can also allow you to store bigger items such as sports equipment, and also ensure that your vehicles are safe. Keep in mind, your garage should have proper ventilation, insulation, and also be secure by upgrading and using a good security system. Look into adding a garage, either attached or separated from your home, and know that this is a great investment for you and future homebuyers!
10. New Kitchen
Kitchens are the heart of the home, and many times can be one of the hardest parts to do a total home makeover in. Nevertheless, it's essential to update your kitchen in order to get the latest technology that can make your life easier in your new home. Upgrade your countertops, plumbing , and use green-conscious appliances such as eco-friendly dishwashers and faucets. Your kitchen remodeling project will serve well and will also be looked at by many homebuyers that will want to ensure your kitchen is accommodating to their family, spacious, and trendy as well. Keep in mind to also update cabinets in your kitchen, and use bright colors such as white with contrasting colored hardware.
11. Remodeled Bathroom
Your bathroom is the place in your home where you can relax, unwind, and let go of the day's stressors. A total home makeover will not be complete without redoing your restroom. Installing a new cast-iron tub, or a modern shower with eco-friendly water-conserving showerheads can be some good starting points. In addition, you can upgrade the paint in your bathroom, the tiles in your bathroom, and also let in extra light by revamping your windows. A bathroom needs to have an air of relaxation and a modern feel. Make sure to include these if you want to use the bathroom as a selling point in your home.
12. Green-Conscious
We've mentioned using green-conscious appliances here and there in your home. But, if you're really thinking about green-conscious renovations, sustainable architecture can be a great way to start and to solidify your home as an eco-friendly home. Sustainable architecture involves using less building materials and minimizing the impact of the building on the surrounding ecosystem. If you're able to build a modern home, or are thinking of building your home from the ground up, sustainable architecture can give an ultra-minimalistic look while also saving you money in the long run.
13. Electrical Upgrades
If you're buying an old home and renovating it, or simply know your home hasn't been maintained in a while, one of the most important parts of your total home makeover to focus on is electrical upgrades. Without proper electrical service, your home can be prone to outages, shorts, and sparks coming from outlets, and even fires that can result from these issues. Electrical upgrades are essential in any home, but don't work on this task alone. Seek help from properly trained electricians and building contractors to help you upgrade your home.
14. Doors and Windows
Doors and windows can last for up to twenty years if properly maintained. Unfortunately, doors and windows can be easily damaged and cause a world of trouble for your home. Replacing windows and doors can help you save money on heating bills by preventing drafts, as well as letting in more light from outdoors. In addition, by replacing doors and windows with the help of a door specialist or window installer, you can ensure your home will be secured and not provide a way for would-be robbers to get in.
15. Backyard Upgrades
Think your backyard is drab? you can always upgrade your backyard with the help of a custom pool, a small koi pond, a dance floor, or anything in between. A total home makeover isn't complete unless you take into account all parts of the home, including the backyard. Many homeowners want to use a backyard for entertainment purposes, so ensuring that your backyard is clean and properly maintained can help you sell your home fast. Some trendy designs to consider are a backyard bonfire pit or a backyard barbeque area with an outside kitchen that allows extra space for entertaining. The choices are endless!